In a large VW Group board meeting in Berlin, Group CEO Herbert Diess appears to have indicated that the Group's competitors now include Chinese brands NIO, XPENG, BYD, and CATL.
The admission came during an April 20th meeting to discuss the Group's 'NEW AUTO' strategy. It aims to turn VW and its subsidiaries into a global force across the fields of car making, mechatronics, software, batteries and charging, and mobility solutions.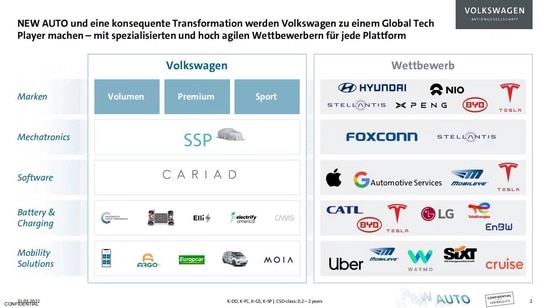 Amongst the leading auto brands that Volkswagen sees on its radar, Chinese brands NIO, BYD, and XPENG loomed large, alongside EV market-leader Tesla, rising star Hyundai, and the global giant Stellantis.
BYD also featured on the competitor list for 'Battery & Charging' alongside the world's largest producer of automotive batteries, China's CATL.
China's New Get VW's Attention
CLS reports that, although the brands featured prominently on the slide shown above, Diess curiously did not mention the brands by name.
Diess is quoted as saying: "In the transition to 'NEW AUTO', our competitors will not only be Mercedes-Benz, Toyota or the Stellantis Group but also Tesla, Foxconn, Apple, LG Electronics, Uber, etc."
Could this be a sign once again that, despite the apparent success of Chinese brands in matching, and in many cases surpassing, European brands in the EV market, Europe's biggest names are still finding it hard to acknowledge their achievements?
In China, Volkswagen's ID brand had a tough time in their first full year. They had confidently predicted sales of 80-100,000 units but fell well short, achieving just over 70,000.
Critics point to Volkswagen's comparatively low-tech offering, which can't compare with the digital experiences of Tesla and China's best homegrown brands. Still, there may also be a patriotic factor too.
In the luxury car segment, classed as anything priced over 500,000RMB ($77,000), cars from local brands Human Horizons and Hongqi both outsold anything from Porsche and Audi in March in what is becoming a common theme.
Leading the way, yet playing catch-up
Volkswagen's response to the self-inflicted diesel scandal was to focus entirely on electrification. Yet, despite being one of the heaviest investors in EVs, it still finds itself some way behind both Tesla and BYD in China.
Their 71,000 sales in 2021 pale in comparison to Tesla's 310,000 and BYD's 286,000 (including PHEVs) and, even if they hit this year's target of 150,000 vehicles, they will still be way behind.
Even Audi, one of the more proactive brands on the EV front, are lagging behind China's NIO after the first quarter of 2022, with 24,200 sales contrasting against 25,800.
Catching up is a "mountain" of a task and one that may take the best part of the next decade. "We're evolving from a classic OEM to a vertically integrated mobility company," Diess told the audience at the 'Big Symposium' in Berlin.
This is partly because 'NEW AUTO' is not simply about making cars but about transforming into a sustainable, software-driven mobility service provider, a goal many of Europe's big names share.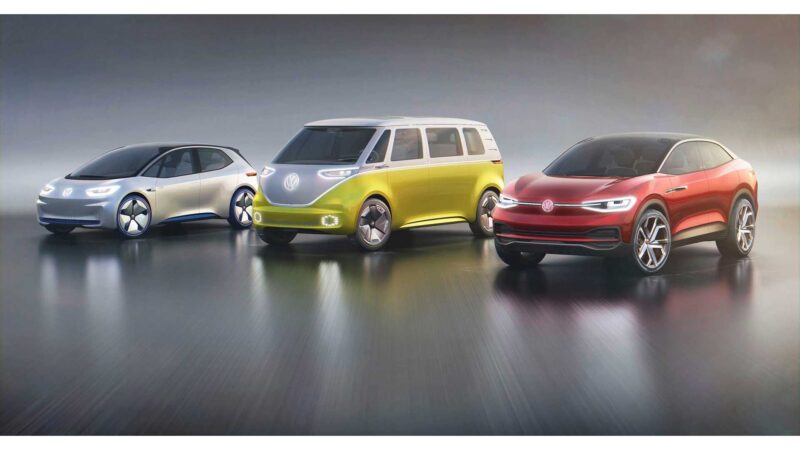 Turning the Tanker
Aside from the mammoth task of converting a giant organization that specializes in engineering ICE-powered vehicles into one that makes electric cars, VW also has to learn how to become a technology and software company, something brands like Tesla, NIO, and XPENG have been since day one.
Volkswagen's solution to this challenge has been to found CARIAD, an automotive software company. Their role is to "build the leading tech stack for the automotive industry".
Supporting CARIAD was one of the primary purposes of the event in Berlin. Consensus was sought on promoting and developing the company, establishing a new guidance model for the group, and promoting business in China.
Part of that is already underway, with CARIAD bringing hundreds of people onboard in China. VW also recently held a hardware procurement event for Chinese suppliers who will help build the next wave of Volkswagen Group EVs on the SSP (Scalable System Platform), equipped with CARIAD E3 2.0 software.
Production should begin in Europe and North America in 2025.
Conclusion
How successful these steps will be may take some time to ascertain. With 99,100 pure electric vehicles sold by Volkswagen Group globally in Q1 2022, up 65.2% year-on-year, there are some buds of hope; however, getting on a par technology-wise with local brands in China and overcoming a new wave of enthusiasm for domestic heroes, will be another task entirely.
Article credits: Herbert Diess, Sina Finance, CLS.CN