The Xpeng G6 all-electric fastback SUV hit pre-sales in China with a starting price tag of 225,000 yuan (31,600 USD). It has appeared to be around 15,000 yuan (2,100 USD) cheaper than previous price leaks. The G6 has 6 exterior shades, up to 460 hp and 755 km of CLTC range. Let's get to know the Xpeng G6 better.
Basics on the Xpeng G6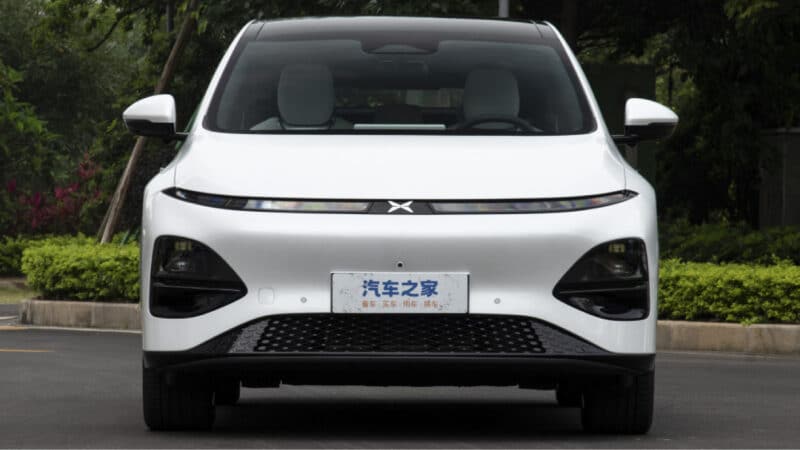 The Xpeng G6 is a mid-size SUV-coupe that is aimed at the Tesla Model Y. Its dimensions are 4753/1920/1650 mm with a wheelbase of 2890 mm. So clarity, it is 3 mm longer, 58 mm narrower and 26 mm higher than the mentioned Model Y. It features two powertrain options. The first one is RWD for 296 hp. And the second one is 4WD with 460 horses. According to previous leaks, the G6 has two optional batteries on board: an LFP for 66 kWh and ternary (NMC) for 87.5 kWh. The RWD version with a bigger battery can run up to 755 km (CLTC) on a single charge.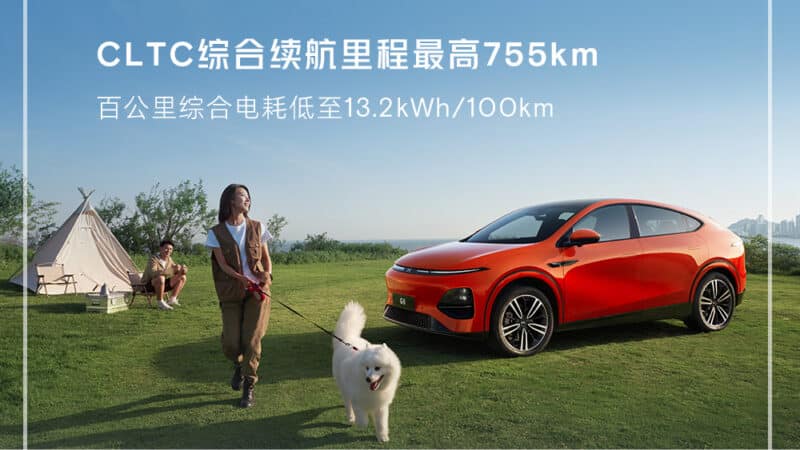 Another benefit of the Xpeng G6 is the 800 V platform that allows it to charge 300 km of range in 10 minutes. As for the energy consumption of the G6 RWD, it reaches 13.2 kWh/100km. So, it is quite efficient. However, the Tesla Model Y RWD has a bit better energy consumption rate at 12.5 kWh/100km. The Xpeng G6's body has a notable torsional rigidity of 41,600 Nm/deg.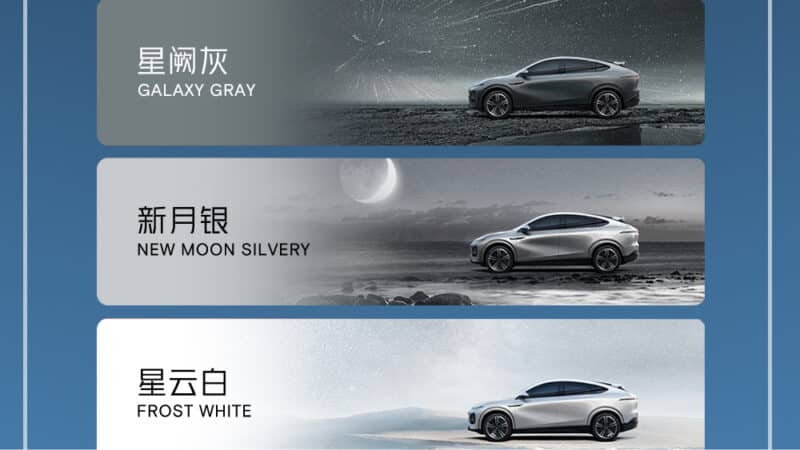 Other fine details of the G6 are 571-L trunk (1374 L with the second row folded), a huge panoramic roof and six exterior colors. Let's talk about shades more precisely. You can choose from Glowed Cloud Orange, Starry Rain Cyan, Photon Blue, Galaxy Gray, New Moon Silvery and Frost White. It is surprising that the G6 hasn't got a simple black color. It seems that Xpeng assumes it is a too boring shade.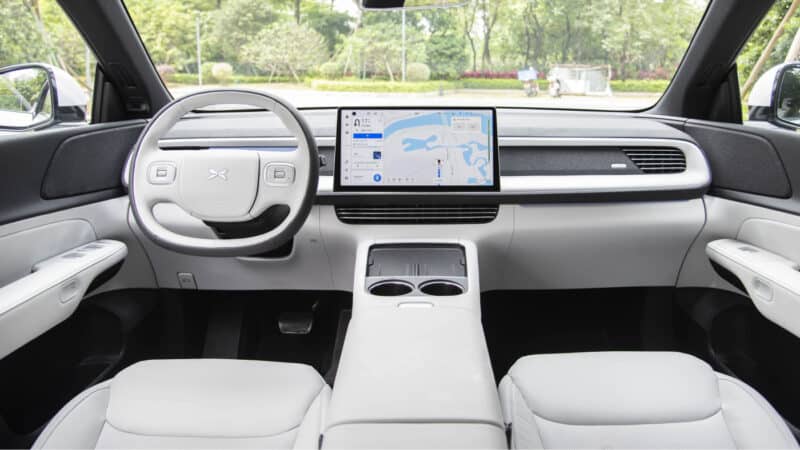 The interior colors of the Xpeng G6 aren't disclosed yet. But its cabin features a cool two-spoke steering wheel, a large 14.96-inch screen, two wireless charging pads and a Face-ID sensor on the front pillar that monitors the driver. Worth mentioning that the G6 has 31 driving assist sensors and two Orin-X chips for 508 TOPS.
Xpeng G6 pre-sales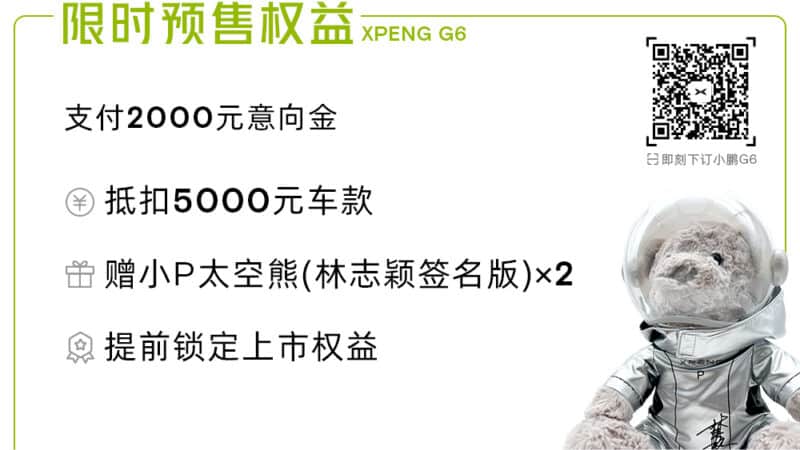 As we have already mentioned, the starting price of the Xpeng G6 appeared to be 15,000 yuan lower than we previously thought. According to Xpeng, it costs 225,000 yuan (31,600 USD). Previously, it was reported that the price range of the Xpeng G6 will be about of 239,900 – 299,900 yuan (33,685 – 42,100 USD). For a comparison, the Tesla Model Y starts from 263,900 yuan (37,050 USD). So, the G6 is 5,450 USD cheaper than its main rival.
Moreover, people who pay a 2,000-yuan deposit now will be able to get a 5,000-yuan (700 USD) price reduction. So, it is actually 6,150 USD cheaper than the Model Y. And, because Xpeng isn't "a boring car brand", they will also give you two free teddy bears in spacesuits, signed by Jimmy Lin, a well-known Taiwanese singer, actor, and race car driver.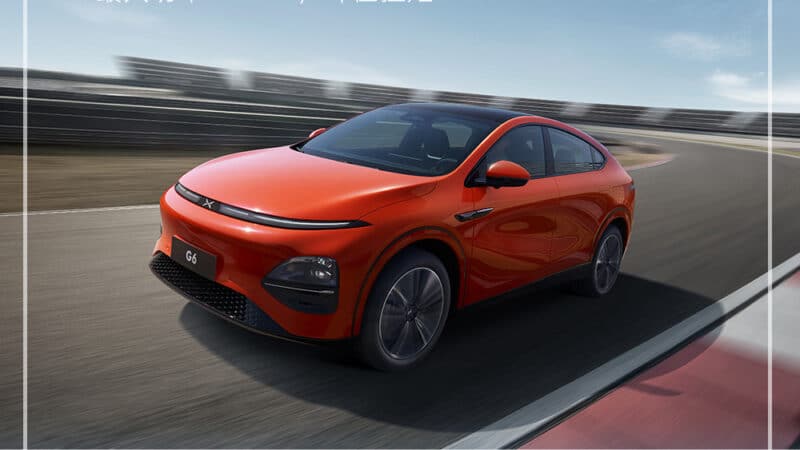 As for the official launch of the Xpeng G6, it is scheduled to June 29. And the deliveries of the G7 will happen in July this year.
Editor's comment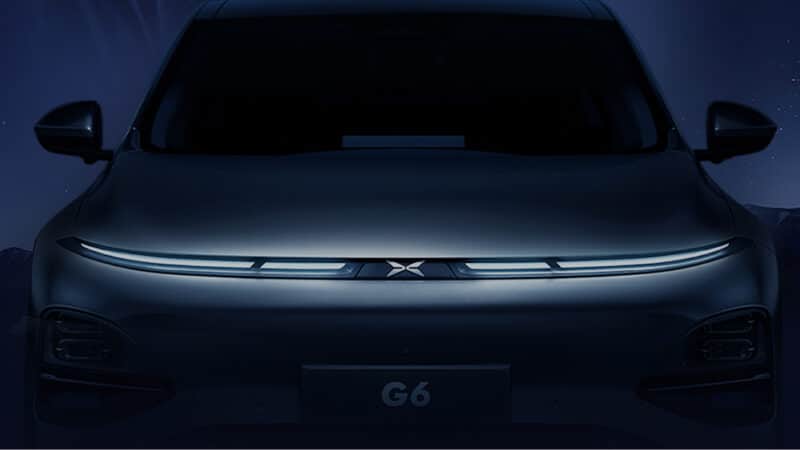 As we can see, the Xpeng G6 is a quite affordable vehicle that features a nice exterior design, spacious interior, reasonable powertrain options and a relatively low starting price. It looks like it is really able to challenge the Tesla Model Y in China. However, it still has some drawbacks, compared to the Y. The first one is the energy consumption, and the second one is a lack of brand power. Moreover, Tesla Shanghai can simply supply buyers with more cars than Xpeng can with the G6. So, it seems that the G6 won't overtake the Model Y in terms of the sales number.
Source: Xpeng Weibo, Autohome