On September 1, the Chinese Automobile Quality Network published the H1 2023 China Automobile Brand Quality Ranking list for new energy vehicles. Dongfeng's Voyah brand came in first as having the best quality while Changan's Deepal brand came in last as having the worst quality. The lower the score, the higher the quality. There is no upper limit on the score. Let's check out the ranking below.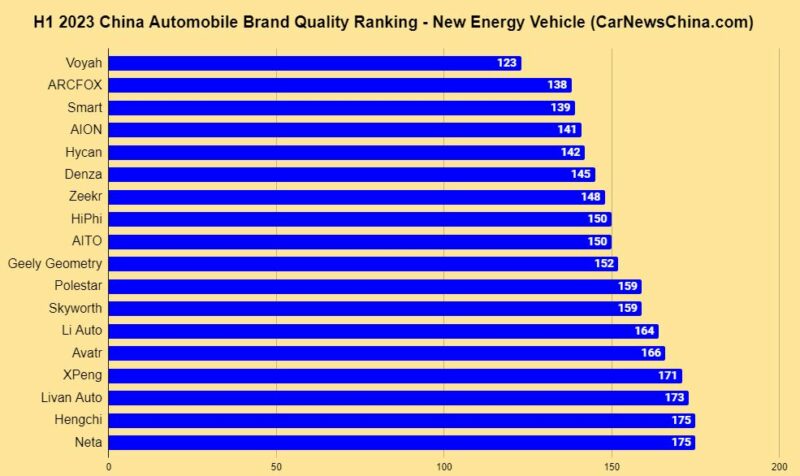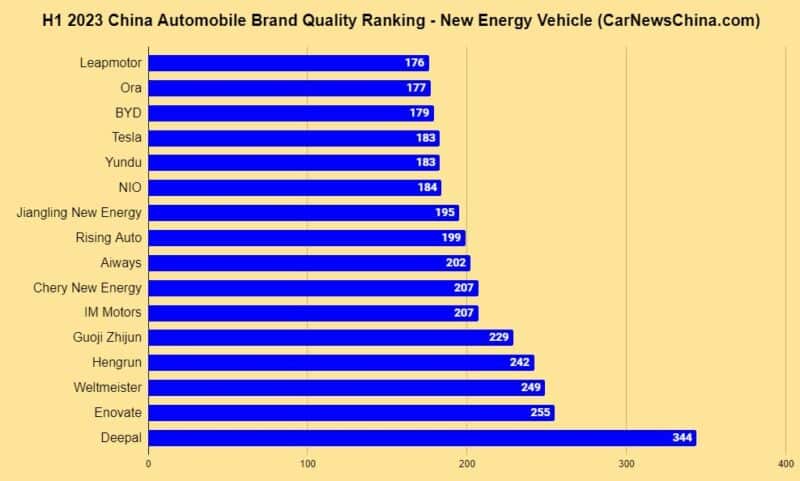 In the first half of 2023, a total of 34 brands were included in the ranking, among which 23 brands scored above the average, which was 183 points, including Voyah, ARCFOX, Smart, Aion, and Hycan came in as the top five. These brands are considered to have lower potential defect risks and higher reliability in the quality ranking. It is worth noting that in the top 20, brands such as Denza, Zeekr, HiPhi, AITO, Geely Geometry, and Polestar also showed decent quality performance in terms of number of customer complaints.

BYD's score is four points above the average while Tesla (China) is right on the average score. On the contrary, 11 brands scored below the average, including NIO, Jiangling New Energy, Rising Auto, Aiways, and Chery New Energy. And the worst of the worst went to Changan's Deepal brand.
NIO's performance is a bit disappointing given that it is a well-known Chinese electric vehicle brand, but its quality ranking score is slightly lower than the industry average. Furthermore, while Rising Auto, IM Motors, and Deepal's products all target the mid-to-high-end consumer segment, their overall quality score is also worse than the industry average.
About China Automobile Quality Network
The China Automobile Quality Network is the first official automobile quality complaint monitoring platform in China, sponsored by the State Administration for Market Regulation. The ranking evaluates five factors: complaints and faults, defect risks, reliability, safety, and environmental protection.
Source: China Automobile Quality Network, CnBeta