Thailand's latest vehicle registration data for September 2023 reveals that BYD continued to lead the EV market in the country. During September, BYD achieved record-breaking sales of 3,242 EVs in Thailand.
In the overall market context, Thailand reported 6,875 EV sales for September, with BYD capturing 47% market share. When assessing the cumulative figures for the first nine months of the year, Thailand registered 50,347 EVs, with BYD accounting for 36% of these sales. From January to September, Thailand's total vehicle sales reached 500,942 units, with EVs constituting 10.05% of this figure. This represents a significant shift from the previous year when only 9,729 EVs were sold in Thailand. The year-to-date 2023 sales surpass last year's figures by over five times.
Regarding monthly sales dominance, BYD emerged as the leading EV brand in Thailand for all months except June. In June, Neta claimed the top spot.
Examining specific models, BYD's Dolphin and ATTO 3 have proven highly popular in Thailand, reflecting their status as critical global export models for BYD. The Dolphin's starting price in Thailand is 699,999 baht (19,000 USD), while the ATTO 3 starts at 1.099 million baht (29,800 USD).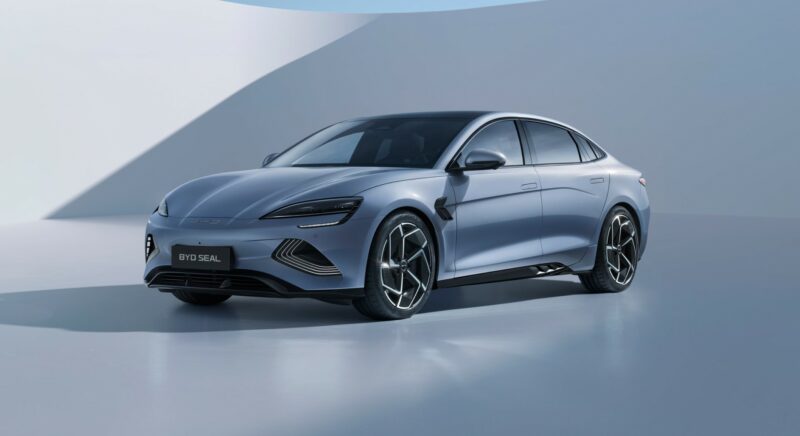 In September, the top three EV brands in Thailand were BYD, MG, and Neta, all of which are of Chinese origin. Furthermore, among the five brands with the highest sales, all except Tesla were Chinese. Chinese manufacturers collectively command an impressive 87% share of the Thai EV market.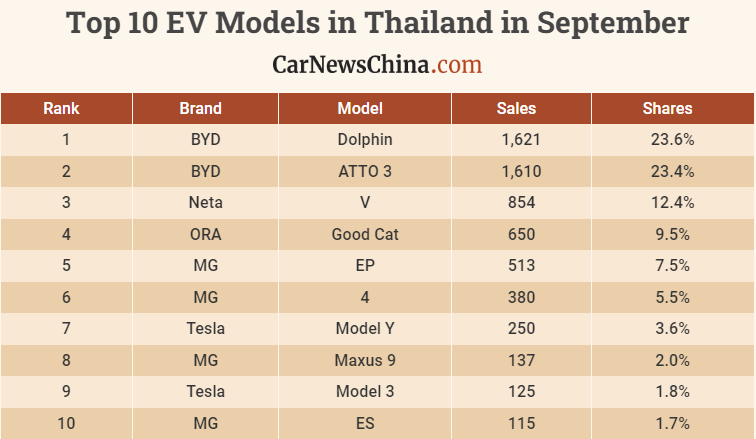 BYD recently introduced its Seal EV model to the Thai market on September 28, with a starting price of 1.325 million baht. The response was remarkable, with over 1,000 orders placed within just one hour of the launch. Deliveries of this model are expected to commence on a large scale in Thailand in October.
BYD is also actively expanding its local manufacturing capabilities. Construction is underway for the company's factory in Thailand, slated for production commencement in 2024. This facility aims to manufacture 150,000 EVs annually.
Source: AutolifeThailand