On October 9, Nio swapped its 30th million battery in China. It took Nio only six months to swap 10 million batteries – from April to October.
Nio owners, or users, as the company calls them, have two options for getting power for their EVs. They can charge the battery as everybody else or swap the empty battery for a new one. Nio's third-generation swap station can change the battery in about 3 minutes.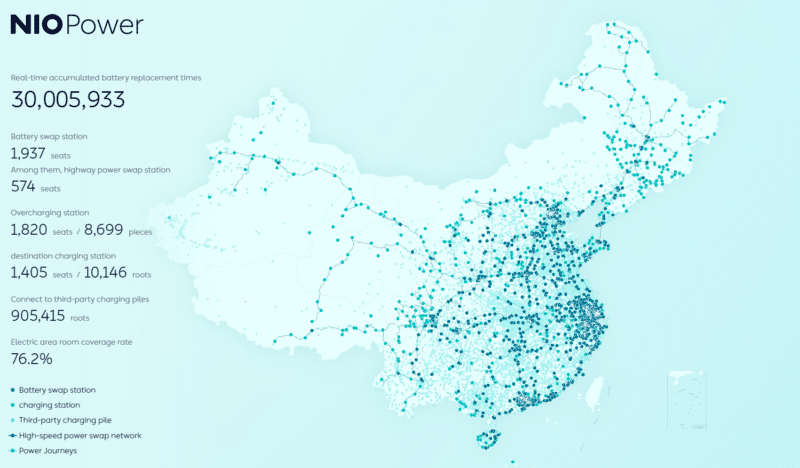 Despite Tesla's CEO Elon Musk previously dismissing the concept of battery swapping as unworkable, Nio today reached the milestone of 30 million battery swaps in China. Nio operates 1,937 swap stations called PSS (Power Swap Stations) in the Middle Kingdom.
The first recorded Nio swap happened in May 2018, when the first PSS went live in Shenzhen. Four years later, in June 2022, Nio celebrated its first 10th million battery swap.
Nine months later, in April this year, Nio saw its 20th millionth battery swap. And today, Nio marked the 30 million milestone.
The record day for battery swaps was October 5, when Nio swapped over 78 thousand batteries in a single day. It was the end of a public holiday in China, and most people returned from their homes. Nio plans to have 2,300 PSS in China by the end of the year.
Battery swapping is recently getting a reboot in the US, according to Axios. The company Ample launched a new generation swap station in May that can change the battery in about 5 minutes – about the time it takes to refill the tank. Ample claims they can deploy the swap stations across a city in days. Previously, they were experimenting with the service for Uber drivers in California and recently expanded to Spain and Japan. Ample targets mainly ride-hailing companies.