Stellantis NV will invest €1.5 billion in Chinese EV maker Leapmotor for a 20% stake. Stellantis will start exporting Leapmotor cars to the EU in the second half of 2024, with the US market following later. Leapmotor vehicles will be built in Stellantis plants worldwide, including the US, according to Stellantis CEO Carlos Tavares.
Stellantis is the fourth biggest world automaker and second in Europe in terms of sales and consists of brands such as Jeep, Citroen, Chrysler, or RAM. Leapmotor is a Chinese EV startup that sells two models in China.
Both companies will create a joint venture (JV) called Leapmotor International, where Stellantis controls 51% and Leapmotor 49%. The JV will have exclusive rights to export and manufacture Leapmotor cars outside China, while Leapmotor will take care of sales and manufacturing in China. The shipments will start in the second half of 2024.
"We will sit in the international market driver's seat and on the Chinese market's co-driver seat," Tavares said. "The previous ventures in the country had been a lesson in humility," he added.
He was referring to July of the previous year when Stellantis decided to withdraw the Jeep brand from the Chinese market, shuttering its last manufacturing facility in the country. Operating at a loss, this factory had been a joint venture between Fiat Chrysler and GAC. It sold 20,000 vehicles in 2021, representing just 6% of its production capacity.
"We have been seeing more and more political interference in the world of business in China over the last few years," Tavares explained the move then.
Later, in October 2022, Tavares called to increase tariffs on Chinese automakers. "Very simply, we should ask the European Union to enforce the same conditions in Europe for Chinese manufacturers under which we, the Western manufacturers, compete in China," Stellantis CEO said while speaking to reporters at the Paris auto show.
Today, Tavares made a U-Turn and publicly criticized the EU anti-subsidy investigation when talking to Reuters, saying the EU probe into whether Chinese auto exports to Europe benefit from state subsidies is not the best way to tackle global trade issues.
"This could complicate any measures the EU may have considered to protect its domestic market since now both the VW Group and Stellantis plan to export Chinese-made vehicles into the EU," commented Tu Le, director of Sino Auto Insights, a global management consultancy.
The Sino-European partnership goal is to boost Leapmotor sales in China and utilize Stellantis's global market power to significantly accelerate Leapmotor car sales in other regions, mainly Europe and the US.
"Although Tavares has outlined why this transaction makes sense for Stellantis, we will have to wait and see whether the two parties can work together," added Le.
The company said Leapmotor vehicles will debut in Europe within two years. The Leapmotor vehicles might be assembled in Stellantis facilities around the world, as well as in the US, if import tariffs are too high, according to Tavares. While this might help Leapmotor's international recognition, the deal prohibits them from independent expansion to overseas markets, leading to a company share of a 10% drop on Thursday.
"It's a brilliant chess move from Carlos, making sure that the Chinese offensive is going to play to Stellantis' benefit and not to its detriment, comments Lei Xing, former chief editor of China Auto Review. "But only history will tell if this was the right decision for both companies," concluded Xing.
Leapmotor builds its vehicles on the Leap 3.0 platform (also called Four-Leaf Clover), which supports all-electric cars (BEV) and EREVs. EREV is a type of EV that features a small ICE that is not connected to wheels as in the case of PHEVs but only works as a power generator for the battery.
Hangzhou-based EV maker launches its EVs in both versions – BEV and EREV. The company sells two EVs in China – the C11 SUV and the C01 sedan. Its latest model is the Leapmotor C10 SUV, unveiled at Munich's IAA 2023 auto show.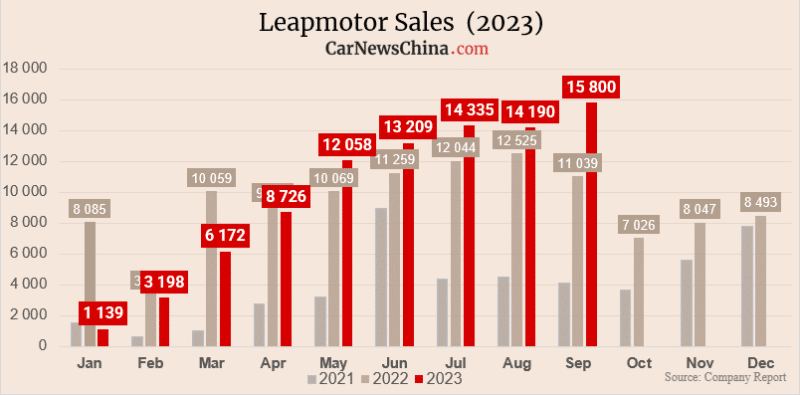 Leapmotor sold 15,800 vehicles in September in China, up 43% compared with the same period last year and 11% up from last month.