In week 45 of this year (November 6-12), BYD was among the few automakers that grew at least slightly and sold 49,000 vehicles, up 5% from the previous week. Tesla sold 12,700 EVs, 9% less than the week before, and Nio sold 2,900 cars, down 31% WoW.
The data were published by Li Auto, and they represent weekly sales. The background data are weekly insurance registrations. The numbers are rounded and present new energy vehicles (NEV), the Chinese term for BEVs, PHEVs, and EREVs (range extenders). To be completely precise, it also includes hydrogen vehicles (FCEVs), but their sales are almost non-existent in China.
As always, BYD got the first sport, selling 49k vehicles. BYD sells both BEV and PHEV, but insurance registration doesn't show the ratio. It is usually 50:50, with the trend leaning towards BEVs in previous months. It was about 53% of BEV sales in September.
From the Ocean series, BYD registered 8,800 Seagull hatchbacks, 5,500 Dolphins, and 1,800 units of BYD Seal. From the Dynasty series, they registered 6,600 units of Song Plus, 6,600 Qin Plus, 5,800 Yuan Plus (Atto 3), and 3,300 BYD Han.
Despite BYD being the market leader, it seems hard for the company to leave the 50k weekly sales level, and they most likely won't be able to reach its optimistic sales goal of reaching 3,6 million sold cars in 2023.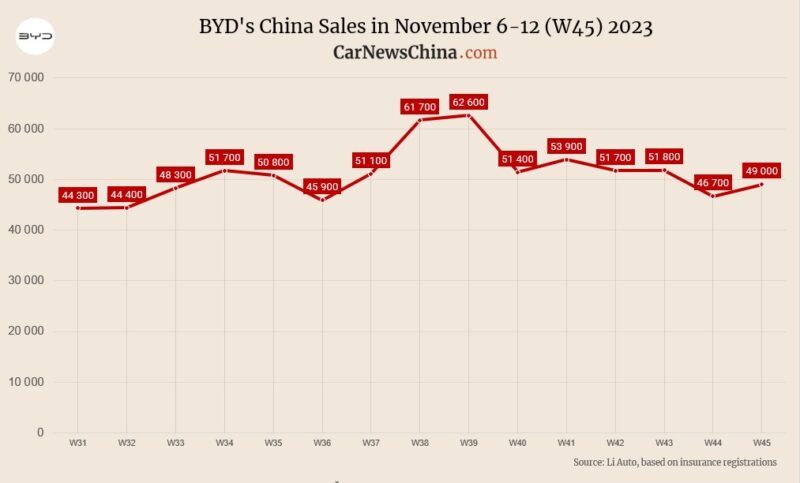 The second spot goes to Tesla, which registered 12,700 cars, 9% down from 14,000 registered units in the previous week. 3,300 registered vehicles were the 2024 Model 3, and 9,400 were updated Model Y.
Tesla recently dropped sales in China as it introduced the facelifted Model 3 in September and had to adjust the tooling and production lines, and the first batches of the 2024 Model 3 were intended for export. The next weeks will show us if the new Model 3 will win the hearts of Chinese consumers despite the increased price, which was a very bold move from Tesla in mind the ongoing price war.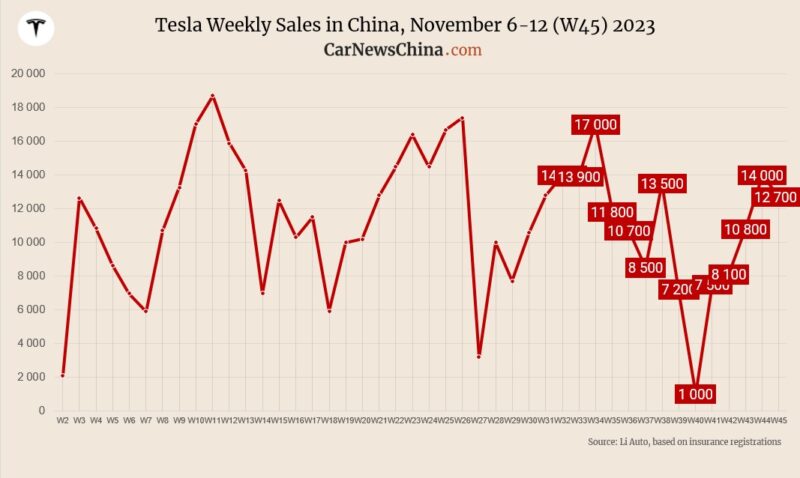 The third spot goes to the Sino-American joint venture between SAIC and GM – Wuling, best known for its Wuling Mini EV bestseller. However, the days of Mini EV are gone as the Chinese want a bit more of the car, so Wuling's most important product now is the budget hatchback Wuling Bingo, which competes with BYD Seagull. Wuling sold 11,600 vehicles and grew 29% WoW.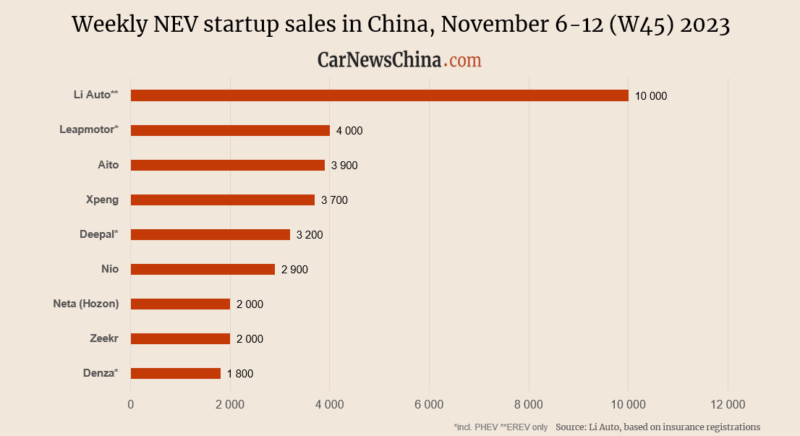 Among Chinese EV startups, Li Auto dominates as usual. They sold 10,000 cars and grew 16% WoW. Li Auto also shared the breakdown data so we can see that they sold 3k L9, 3k L8, and 4k L7. All cars are EREV SUVs.
Li Auto sells only range-extended electric vehicles (EREVs), which are EVs with ICE as a power generator for the battery, not connected to wheels. In December, Li Auto will launch its first all-electric car, Li Mega. It will be a massive MPV priced above 500,000 yuan (70k USD) with a pretty futuristic design.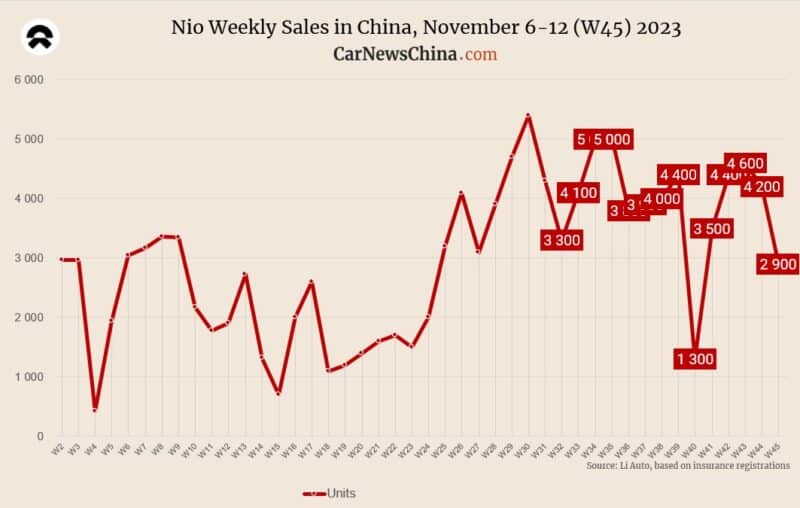 For the other two US-listed Chinese EV makers, W45 wasn't so lucky. Nio sold 2,900 vehicles, down 31%, and we can almost certainly say that the dream of doubling its sales in 2023 is gone, and the Hefei-based company will be happy to reach 180k annual sales.
Nio's sales forecast for 2024 is pretty conservative, with 230,000 units (the forecast for 2023 by William Li, CEO, was 245,000 units), and Nio shouldn't have a problem reaching that milestone. We will closely watch what measures they will take to boost their sales in the hypercompetitive Chinese market.
Breakdown of W45 Nio registrations: ES6 1,100 units, ET5 (including ET5T) 900 units, EC6 400, ES8 360 units. Between November 1-12, Nio sold 5,700 vehicles.
Xpeng sold 3,700 EVs, down 21% from the previous week, mainly mid-size SUV G6 – 1,900 units, followed by the new G9 with 1,100 units and P7 sedan with 600 units, P5 registered 320 units. Between November 1-12, company registered 6,100 EVs.
Huawei Aito was a nice surprise, keeping almost flat WoW and selling 3,900 EVs. Huawei Aito is a brand to watch closely as the company does many things right, from product, SW to pricing.