This is the new 'Jummer', an electric vehicle from a company called Greenwheel EV from the city of Shenzhen in China. I saw it today at the Beijing International High Tech Exhibition. Design is insipred by a certain American machine but much cleaner indeed.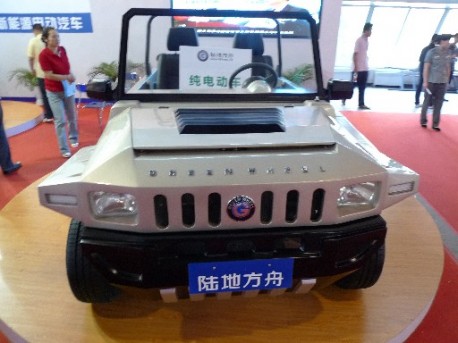 The Jummer has a 72V150Ah battery coupled to an 'AC Electric Motor'. Top speed is 45km/h and range is 100km. Staff told me it was a new car, price will be around 15.000 rmb and that ain't cheap. But!, is has a 35% max grading, which other electric vehicle can do that? Power goes to the rear wheels. Size: 3085x1665x1635, wheelbase is 1968 and weight 880kg, it can carry two.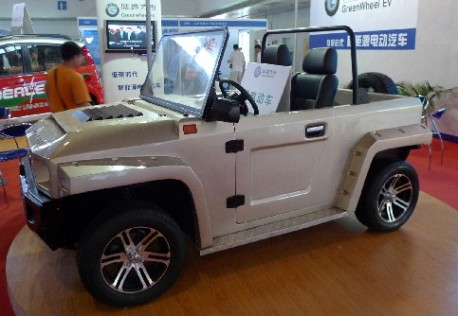 Greenwheel EV makes a lot of other interesting vehicles, most based on existing cars and converted to electric. The Jummer however, it Greenwheels' own. See website, Jummer here.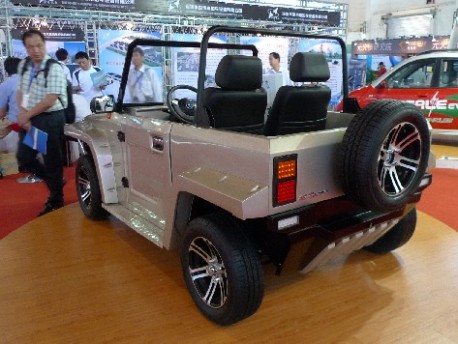 Spare wheel for unforseen troubles up mountain.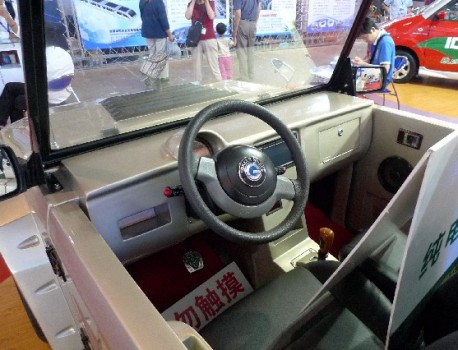 Dash needs some work me think, it's a bit boring. Very small dial in front of the wheel and a screen on the center console. No radio or cd. No engine noise. Means you got to sing. The Jummer could do just that, quality-wise it was all good and well put together. If only good old Hummer would have thought of a car like this…