A vey well maintained Beijing Automobile Works 212 parked on a street in Beijing. Beijing Automobile Works, better known as BAW, is a brand from Beijing Automotive Industry Corporation, or BAIC. Another brand from BAIC is Beijing Auto. BAW makes off roaders and SUV's such as the 007, B40 and B70. Beijing Auto makes passenger cars such as the BC301 and in the future the Saab-based T60.
BAIC also has joint ventures with Mercedes-Benz (Beijing-Benz) and Hyundai (Beijing-Hyundai). BAIC used to have a joint venture with AMC, later Chrysler. That joint venture made the Cherokee and for a short while the 300C and Sebring. The Cherokee is still in production, now as BAW Qishi S12. Time to get back to the 212!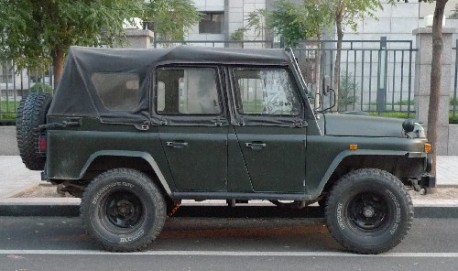 The BAW 212 was inspired, 'based on' is a bit too much, on the Soviet UAZ 469. In those days both communist countries were still best friends so the Soviets didn't mind. Development of the 2121 started in 1963 and production started in 1965. Production continued until 1987, at least a 100.000 were made. Originally the 212 was meant for the army but it was sold to civilians soon after 1965 as well. The 212 proved a though machine because even today there are still many on the road, seeing one in Beijing is so not even that special…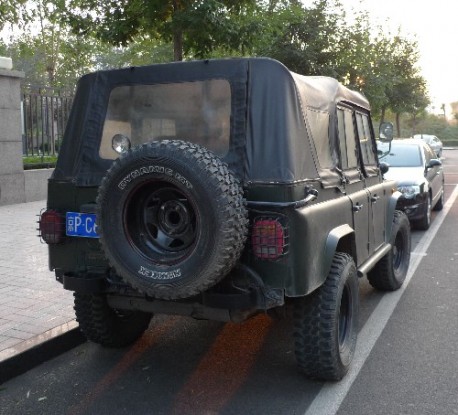 Engine was UAZ-inspired too. Water cooled 2.5 litre 4-cylinder with 75hp, good for a 98km/h top speed. Size: 3860x1750x1870, wheelbase is 2300, kerb weight is 1530kg. The 212 and its various successors is still widely in use by the Chinese army. There are many variants, some with anti-tank or even anti-aircraft guns mounted on the back of the vehicle. The civilian car came in two variants: this four-door and a two-door pick up.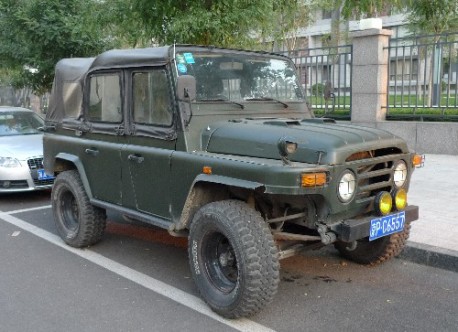 The car on pics is possible ex-army, note the black out light next to the hood. The air intakes on the hood are fake and modern after market. The wheels are after market too, larger and wider than the period wheels. Except for those minor things this 212 is a very original. A good second hand 212 will set you back about 2500 dollar, lesser ones cab be bought 1000 dollar. Maintenance is cheap because parts are widely available, especially in and around Beijing.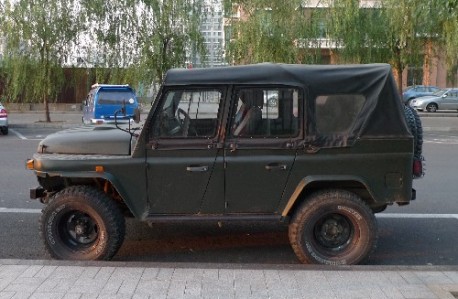 A great machine indeed, may it live long.