One new spy shots of an all-naked Beijing Auto B80VJ in China. Car on pic is the B80VJ which will be the military version, the B80v being the civilian version. It is an interesting car…
Design-wise a copy of the Mercedes-Benz G-class except for the grill which is more Jeep-like. Platform is from the Beijing Auto Qichi S12 which is basically a rebadged Jeep Cherokee that was made in China by the Beijing-Jeep joint venture. The Beijing Auto B80V will debut at the Beijing Auto Show in April.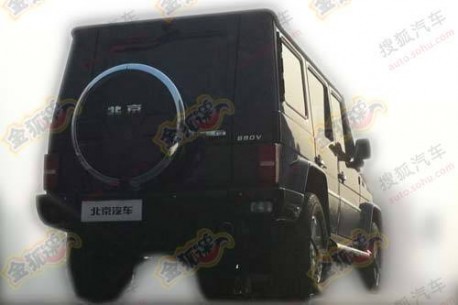 Earlier spy shot from the civilian Beijing Auto B80V. Power: the Qishi is powered by a 2.0 with 122hp or a 2.2 with 141hp. Both engines mated to a five-speed manual. These engines are based on old units from Nissan. Beijing Auto also has a 3.2 Nissan-sourced diesel that is used in the military BJ2020 which, in the end, is also based on the Jeep Cherokee. See all about that amazing story here.
First pic via: Sohu.com.