Bling is Beautiful! Here we have an incredible gold wrapped Maserati Quattroporte cruising the rainy streets in the great city of Chendu in Sichuan Province. The gold loox fabulous in the wet, it should always rain when Bling Cars come around…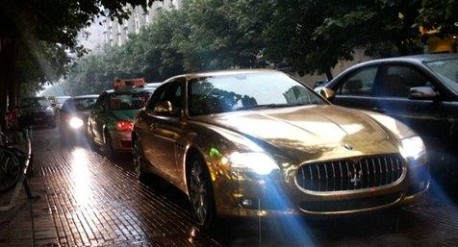 The Maserati Quattroporte costs between 2.2 and 2.6 million yuan in China, both the 4.2 and 4.7 V8 are available. Sales however are not very good because Maserati is a relatively unknown brand in China, Chinese car buyers much prefer V8 or V12 Audi's and Benzes. Maserati is also one of the very few, if now the only one, luxury brands that never sold a China-only special edition, something that the rich Chinese really digg.
Maserati seems to have high hopes about the upcoming Kubang SUV, it stands all alone on Maserati's China-homepage. The Kubang can certainly help but Maserati still needs to do some brand-building, and they better use real Ferrari-Maserati engines, a Jeep V8 just won't do. The site sure also has info about the Quattroporte but the configurator is in English only. That is not smart in China! Italians…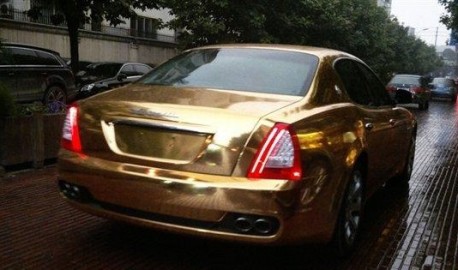 Anyway and how, this golden Maserati Quattroporte is a good car; approved!
Via: a friend with an umbrella, thanks there!