And yez, one more car in China for my ever-growing pink collection. This Volkswagen New Beetle was parked very near to my house in downtown Beijing, at the very same area where I earlier found a badass Audi R8 V10. Parking is actually not allowed here but which policemen will stick a ticket on such a fine pink vehicle?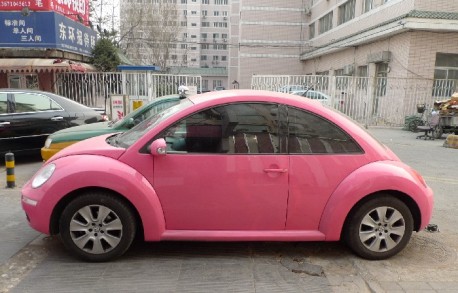 The New Beetle was imported into China from 2007 until late last year (new new-Beetle on the way), priced from 201.600 to 302.100 yuan. Ridiculous indeed but still rather popular with young womanfolk and their sugar-daddies. Volkswagen tried to change that image a bit with the weird black-orange edition, aimed at metro-men. It didn't really work, I've seen shiploads of those standing unsold at Volkswagen's headquarters in Beijing. At one moment I counted about 20, at another moment they were all suddenly gone. Likely shipped straight back to Mexico.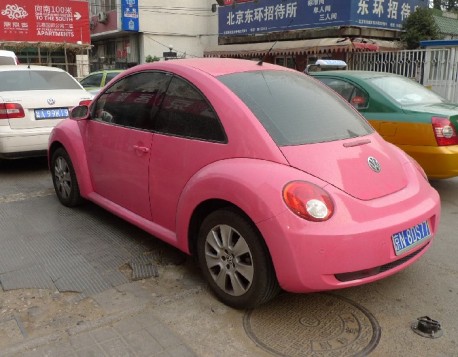 This pink New Beetle however is a great car. The Beetle was always for the girls, so why hide it?
The collection so far: a pink Suzuki Alto, a pink old Suzuki Alto, a pink Porsche Cayenne, a pink Volkswagen Passat, a pink Porsche Cayman, a pink Ferrari California, a pink Lamborghini Gallardo, a pink Bentley Continental GT, a pink Mercedes-Benz SLK, a pink MG-TF, and a pink Audi TT.