Lately there have been a number of high-profile accidents in China involving extremely expensive supercars. The culprit's insurance usually only covered 200.000 yuan while the damage to a Rolls-Royce can easily go up in the millions. Some people so ended up paying for a long long time..
A bus company in the great city of Jinghua in Zhejiang Province got worried that its drivers might one day crash into a supercar. In that case the bus company would be responsible for paying the damage. To prevent that from happening the bus company decided to educate its drivers on supercars with posters like the one on the first picture.
The posters were hung on the walls of the company's offices and serve as a warning to the bus drivers to be very careful when they see a supercar coming around. On the poster the logo's of various supercar makers and the price of their automobiles. The drivers were called in a meeting and literally educated like a bunch of children on the financial dangers from a bus-supercar crash.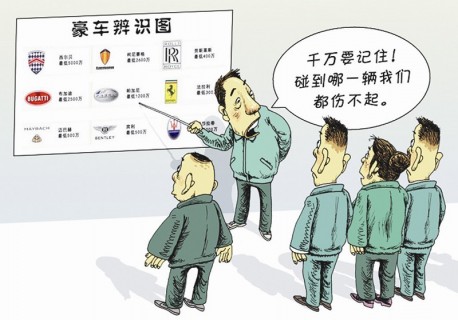 Well, a good idea. Chinese bus drivers indeed don't know the difference between a Geely and a Spyker. Chinese bus drivers, if I may, don't know that much at all. At least now they know the supercar logo's, which however won't be very easy to recognize in heavy traffic.
Let's have a quicky at the numbers on the poster. Most expensive, top left, is SCC which according to the poster sells for 50 million yuan in China, or 7.9 million USD. As far as I know SCC isn't sold in China and 50 million seems a bit too much anyway. The other numbers seem  about right with 5 million for the a Maybach (5.4 for the 57), 5 million for a Lamborghini (4.9 for the Gallardo) and 2 million for the Maserati (2.44 for the GT).
The great German supercar Porsche is missing from the poster, those so, can freely be crashed.