Here we have the famous model Gan Lulu showing her assets at the Beijing Auto Show. Gan Lulu likes carmachines, earlier we saw her at an auto show in the great city of Nanning. Lulu is very famous in China, she is on talk shows a lot, talking about women-things but watched only by men. She is in TV-games as well, like sporty things, where she has to bend over to grab stuff. The lady with funny hat on the left  is Lulu's mom and manager, she must be damn proud of her little daughter!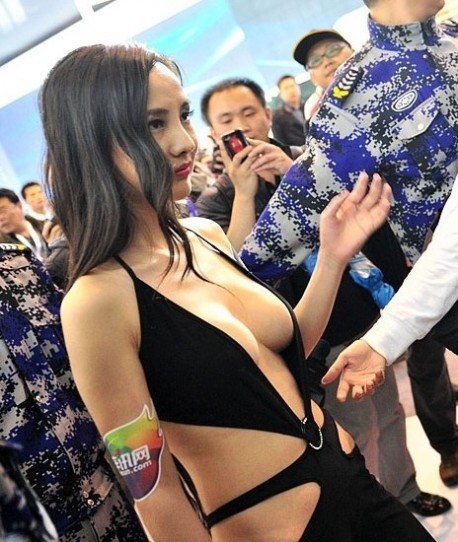 Copy-paste from my earlier article on this fine babe: Gan Lulu was born on September 19, 1985 in the great city of Xinyang in Henan province. Her constellation is Scorpio. Blood type is AB. Height is 165cm. Weight is 43kg. She 'studied' at the Beijing Dance Academy and once did a photoshoot for Gucci. Bio via: Baidu.com. See here for some nice pics from Lulu dancing in a discotheque.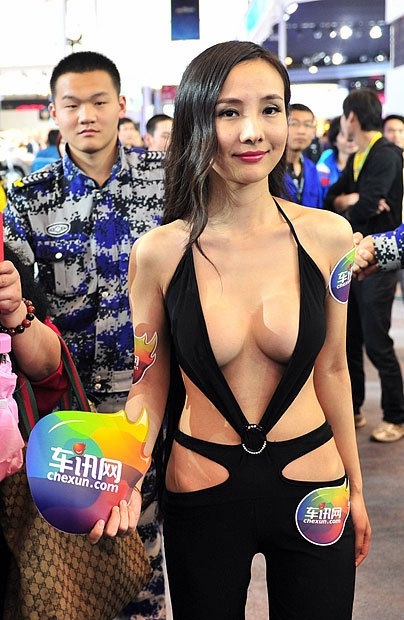 Scary men in uniform are body guards, protecting Lulu from journalists and professional photographers. Lulu didn't really do anything on the show, a website paid her some money to walk around a bit with her thingies out. We like that, so we are nice: www.chexun.com, a new and not too good automotive website. I guess Lulu must have checked it out already, a lotta times!