Here we have a nice set from a marriage in a village in rural Heilongjiang Province. Villagers, more than anybody or anything else, feel the urge to impress each other on wedding days, birthdays and other horrible parties. We really love them for that because there is no better way to impress the village-neighbors than with a bunch of big fat cars! On the first pic the machine for the Happy Couple, a giant stretched Hummer H2. Red stuff on the dirt road is firework, which bangs continually during a marriage in the wastelands.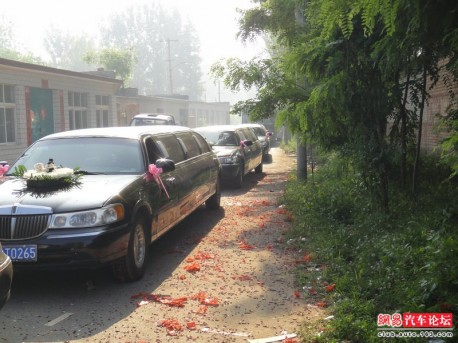 Then arrived three massive stretched Lincoln limousines, dream machines from the 1980's, now dumped on the Chinese countryside by the hundreds via the gray circuit, coming from hard working second hand car dealers on the US West Coast. Well, I don't mind! These to be sure are real Lincolns, not the Lincoln-based Hongqi's from the late 1990's.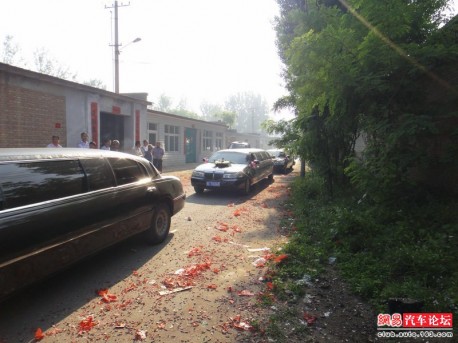 Marriages in the interior can be good fun. They usually start very early, around 0800 in the morning, and end around 1500 after lunch when everybody is completely drunk. Booze consists of  baijiu liquor and big bottles of of cheap beer, locally brewed if you are lucky. The good thing is, you can sleep the alcohol away in the afternoon and start drinking again at night!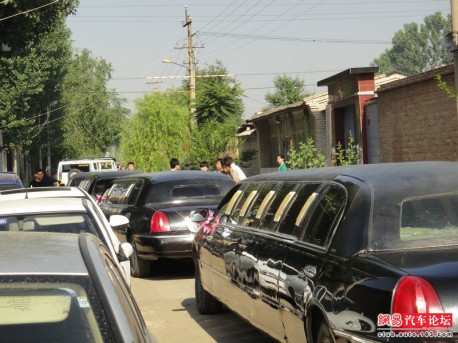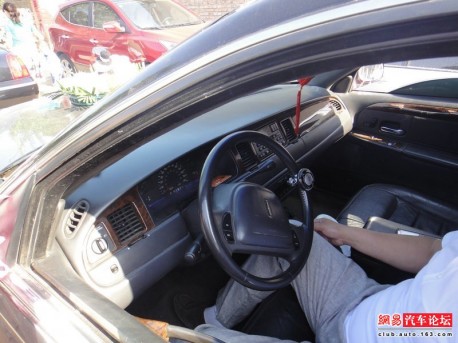 Interior very clean for its age, knob on steering wheel loox vintage 80's.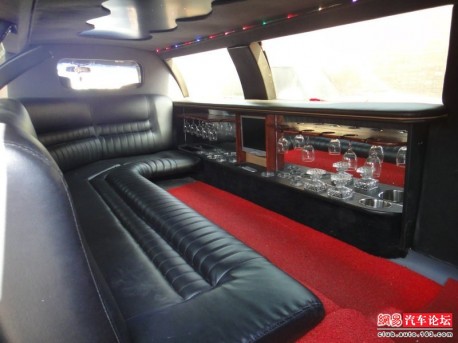 Perfectly maintained here as well. Carpet seems new. Leather seems not. Glassed and bottles straight from the past, a time machine this great car is!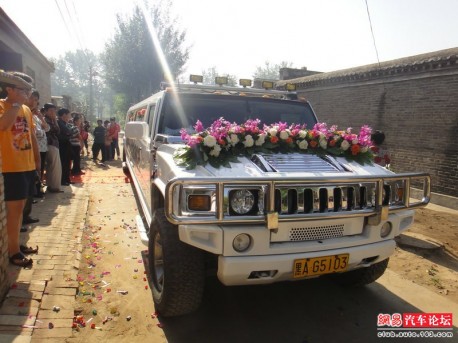 Hummer H2 moves in front of the house of the bride's parents, where the Happy Couple traditionally waits for the things coming.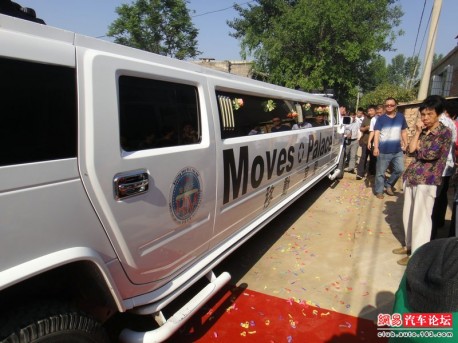 This H2 is a 'Moves Palace", guess they meant to express 'Moving Palace' but in the countryside nobody cares, and anyway, the booze likely already started flowing. Now let's get in the house for a look at that happy bride.
Red bag great touch.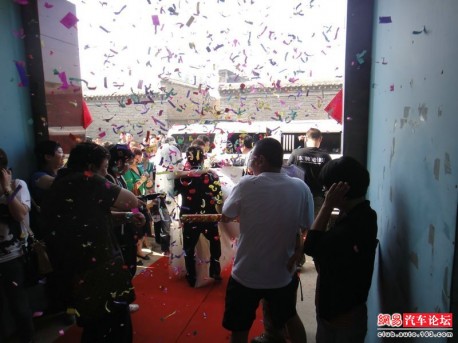 Happy couple goes to car, more fireworks, more booze! At this time the whole party of family and friends usually moves to a restaurant for the actual wedding ceremony, food and much more booze again. See all the other great pictures of this great party on Club2011.