This car is so cool I almost lost my wife when I saw it parked in central Beijing near a vegetable market where that same wife wanted to buy us some lettuce. This is a very orange and matte-black last-gen BMW 5-series, made to look like an M5 but actually and indeed a bread 'n butter Brilliance-BMW 5Li.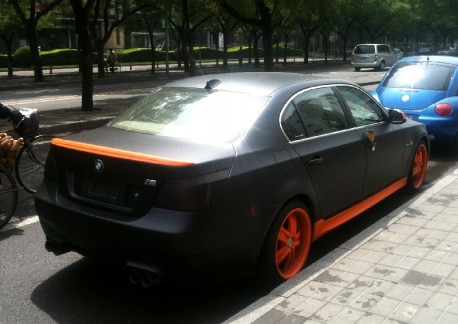 This kinda M5 conversion kits can be bought from 2000 yuan (crap) to 5000 yuan (bit better), this particular set sits somewhere in the middle. Orange alloys extreme… Earlier on me saw another 5Li with a similar body kit, very shiny and wrapped in chrome, but I like this blacky better.
As for the lettuce, yez we got it, and some peaches too, it's the season you know.