A very golden Infiniti FX35, note license plate,  seen by reader Lao Wei (thank you!) in an underground parking lot of a big hotel in central Beijing. This golden monster comes hot on the heels of a matte-orange FX35 that we met in town earlier this month. Well, if they customize their car they like 'em! Infiniti so seems to do very well in China these days…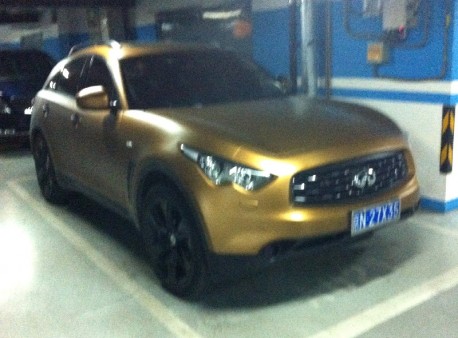 Blacked-out alloys are fast becoming fashion in China. Good. Can't see for sure whether gold is painted or wrapped, painted is even better because it shows the real dedication to Bling. Infiniti will finally start making cars in China from next year on, they haven't which cars will be produced but most sources say the M-series sedan will go first to compete directly with the Audi A6, Benz E and BMW 5. The Germans don't make expensive SUV's in China at the moment so a locally-made FX35 doesn't seem to make that much sense now.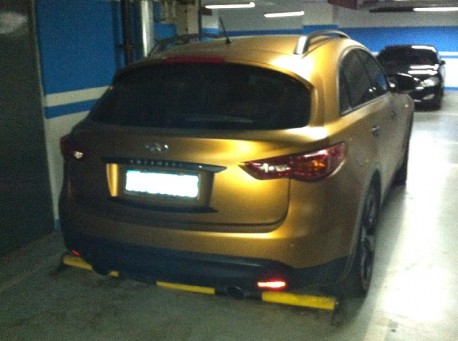 The imported FX doesn't come very cheap, price starts at 780.000 yuan and ends at 1.2 million yuan, both the FX35 and FX50 are available. Strangely we see the FX35 much more while Chinese car buyers usually prefer the baddest biggest engine when it comes to already expensive cars. Anyway and how, this golden 35 loox brilliant!