One brilliant Plymouth Prowler seen by reader Josh F. in the garage of a Brilliance dealer in the great city of Shenzhen in Guangdong Province, thank you for the pics! The Prowler was never officially exported to China but we heard around a handful made it to the Chinese car market in the early 2000's, much to the surprise of local law enforcement.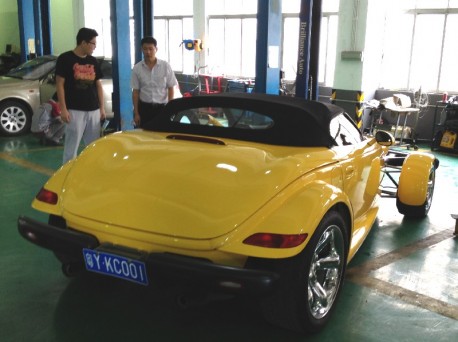 The Plymouth Prowler was made in 1997 and from 1999 until 2002, it was sold as 'Chrysler Prowler'in the 2001 and 2002 model years. The Prowler was powered by a 3.5 liter V6 engine, good for max 253hp. Top speed was limited, for the roof, to a just acceptable 190km/h. This Shenzhen Prowler loox in very fine condition, shiny as new in painted in 'Prowler Yellow Clear Coat'.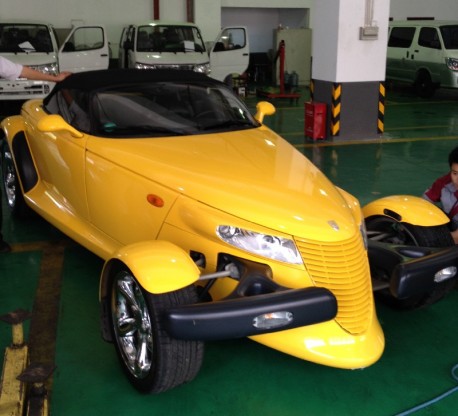 The Plymouth Prowler was truly a mad car, inspired by 1960's hot rods. Its successor, the Chrysler Crossfire, was a much more conventional vehicle, based, among all cars, on the incredible boring Mercedes-Benz SLK. The Prowler was based on nothing but the fantasy of its crazy creators, how we wish there would be more!