Almost 10:00 in the morning here in the capital Beijing, the sun is up and strange men are breaking down a complete hotel on the other side of the river. Time so for Pink! Here we have a fantastic Audi A4L lowrider painted in shiny pink and made even more pretty by a body kit, huge 20inch wheels and sleek 5-spoke alloys.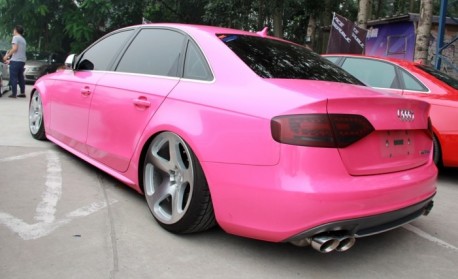 Rear lights in red very good. Double twin-exhaust pipes really low above ground. A very nice work done here! The manic Audi was seen at a local tuning event near the great city of Dalian in Liaoning Province. More from Dalian later on!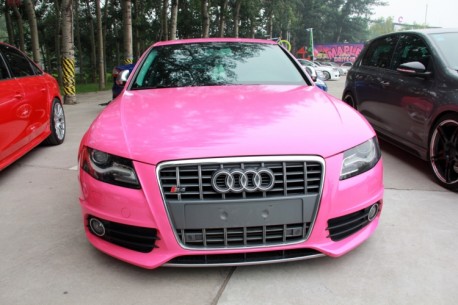 The Audi A4L is made in China by the FAW-Volkswagen joint venture and is the cheapest small executive saloon money can buy, that is, if you don't count all the Chinese stuff… The A4L is much more popular than the Benz C or the BMW 3. Customized C's and #'s are very rare but from the good Audi we got us a small collection: red, pink, orange&black, matte-purple, polizei and fake.