We have received a big bunch of pics from a secret storage area from Beijing Auto Works, aka BAW, a subsidiary of Beijing Auto Industry Corporation (BAIC). The area sits somewhere east from the Fifth Ring Road in Beijing which I sure will try to find by myself soon. But since some of the cars are rather cool I just can't wait. The area holds dozens of concept cars, prototypes and test cars in various forms of completion. We start today with this great army-style SUV which is based on the BAW Luba S100.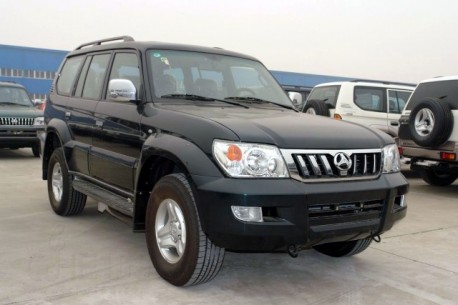 The Luba S100 debuted in 2009 and is basically an unlicensed copy of the Toyota Landcruiser 90-series (Prado 1996-2002). BAW somehow obtained an original mold and managed to use it for 'developing' the Luba. Power comes, it is still in production today, from a Toyota-developed 5VZ 6-cylinder engine which was copied by an other BAIC subsidiary.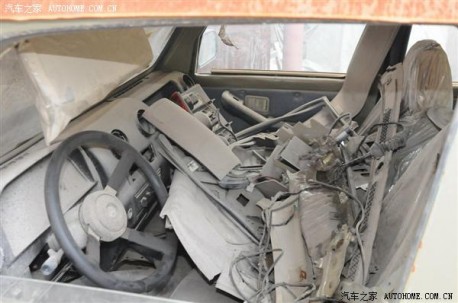 Note BJ212 steering wheel.
BAW, and this counts for the whole of BAIC, is always very good using its platforms to the max. The Luba also sprouted a pick-up and several panel-vans. But that wasn't enough just yet. BAW decided to give the old Land Cruiser/Prado-Luba a complete redesign and that is the fine machine on pics.
Sadly it never made it to production and as far as we know only one prototype was made, which we think loox actually rather good. Interestingly BAW was also thinking about a similar styled vehicle based on the old BJ212, more on that one in a later story.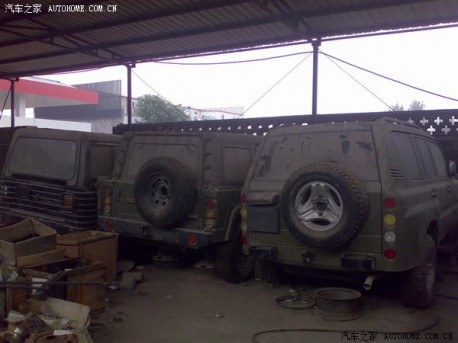 It's the one on the left, 4 lights in a vertical row a great touch indeed.
Via: Autohome, thanks to Erik from ChineseCars.net.