A Hummer sits normally high on its wheels so it can go country side to hit pigs. Making a Hummer lower is therefore not very logical. Still, that is exactly what some strange men in Beijing did with a white Hummer H2 and it actually loox pretty wild! Kit includes a front spoiler, fat side skirts and some more at the back.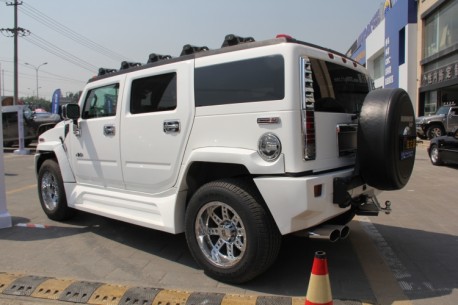 The Hummer brand continues to be very popular in China, dealers still sell Hummers as 'new', which usually means they have been imported from the US in the gray way. Hummer never officially exported to China which was very stupid because this country alone could have saved the brand with ease. Yez, we miss Hummer. This particular example, seen on a small tuning show in Beijing, is equipped with a hook, a very rare thing to see in China where towing things is basically forbidden.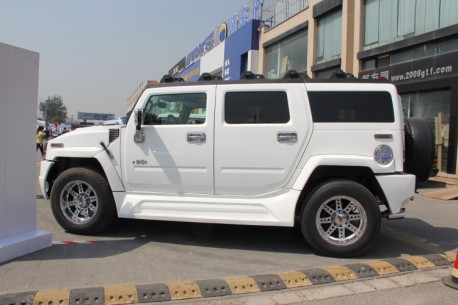 Great machine! The extra parts make this H2 a bit more balanced ans such. Wheels are on the small side but I guess you can't have all; bigger wheels would have meant less body kit.