Here we have a matte black Honda Accord, seen in the great city of Shenzhen in Guangdong Province by reader Josh F., thank you for the pictures! The Honda Accord is further prettied up by a body kit, a brand new black grille and matte glass over the head lights. A fine combination of things!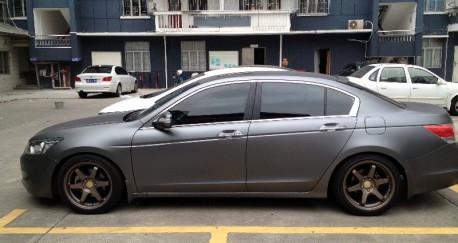 Large low profile tires and racy gold-tinted alloys finish the job. The Honda Accord is made in China by the Guangzhou-Honda joint venture, this stealthy monster is a third generation Chinese-made Accord, a facelift is on its way. Earlier on we met the Honda Accord 1 Million Anniversary Edition, a special second-generation to celebrate 1 million Accords produced in China.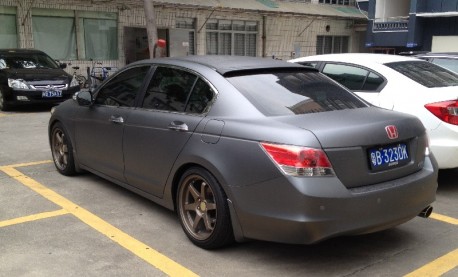 Modified Accords are sadly very rare, as are modified Honda's in general. We got only two Accords in our collection so far, a purple fifth-generation (Japan) and a weird third generation (Japan) Honda Accord Coupe that were both never made in China. For Honda we still have three times pink: a pink Honda Fit, a pink Honda Civic and yet another pink Fit.