The Ferrari 458 Italia China Limited Edition hit the Chinese supercar market back in June and a few days ago our friend Perer Xie saw the first example live on da streets in the great city of Zhengzhou in Henan Province. Ferrari makes only 20 cars for 5.588 million yuan each, that is 879.000 USD. The standard 458 costs 3.88 million yuan in China, or 628.000 USD.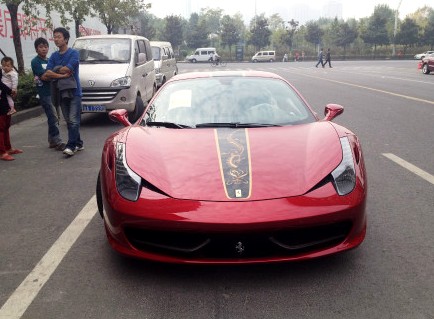 Lotta money but this 458 Italia China Limited Edition is a truly special 458 Italia. Yes. For the extra cash you get: A very aggressive dragon-sticker on the nose, yellow-gold racing stripes, gold-painted alloys, special red paint called 'Marco Polo red', gold-painted stripes on the doors, a numbered gold-painted plaque in the interior, special stitch work in the interior, the character 'long' (dragon) stitched in the head rests (in a special very odd-old hand writing), the same character stitched on the floor mats,  some other gold-painted things in the interior, and best of all: the aeroelastic winglets in the bumper are painted in gold as well.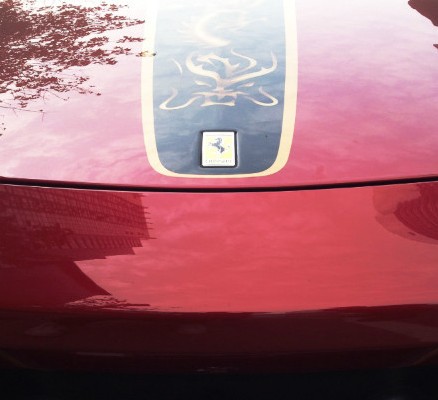 The 458 is by far the most popular Ferrari in China, the Italians could sell everyone they make right here in the country. Time for the rest of our 458 collection: shiny red & matte black, baby blue, crashed, pink (scroll down), China Limited Edition,  purple, with horse, crashed, pink, silver, some silver & some white, and with a friend.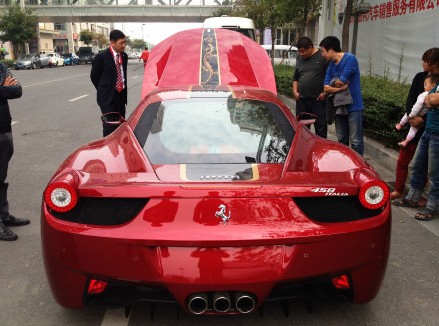 Locals looking for the engine…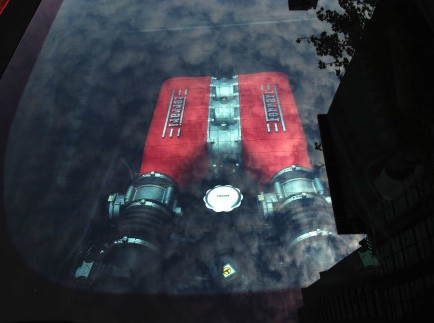 … it is in the back you fools! Engine didn't change for the China Limited Edition.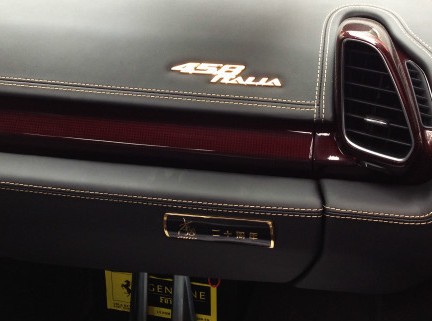 China Limited Edition-badge on dash loox like it will fall off soon. Italian build quality…