Seen a few days ago in an underground parking lot in the great city of Shanghai, here we have the fantastic Ferrari 458 Italia in baby blue, a rare color for this car and never before seen in China. It does the 458 very well, black alloys very sleek too and check that license plate…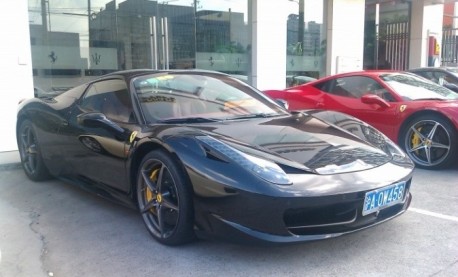 Not far from there and back above ground I found another two 458 sportmachines, one Spider in nasty black and one coupe in red. Since I sat on the back of a fast moving scooter I only managed one shot. Solly!, but it was a great Ferrari day.
The rest of our 458 collection: crashed, pink (scroll down), China Limited Edition,  purple, with horse, crashed, pink, silver, same silver & some white, and with a friend.