A blue Koenigsegg Agera R seen on the Third Ring Road in Beijing. The owner of this Koenigsegg likely paid his taxes… The roof is closed to keep the city's air pollution out, alloys in stealthy black; a beautiful car. Price is pretty too, a base Agera goes for 25 million yuan or 3.7 million USD, this R version must have been a tad more expensive again.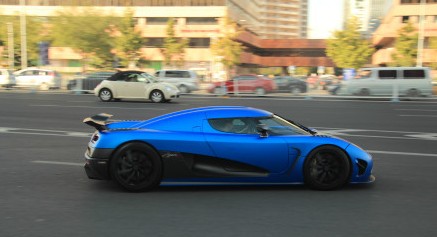 The Koenigsegg Agera R is powered by a 5.0 V8 with 1140hp and 1200nm, good for a 440km/h top speed. Some other speccies: 0-100 km/h (0-62 mph) 2.9 seconds, 0-200 km/h 7,5 sec, 0-300 km/h, 14,5 sec, 0-300-0 km/h 21.2 sec, 0-200-0 km/h 12.7 sec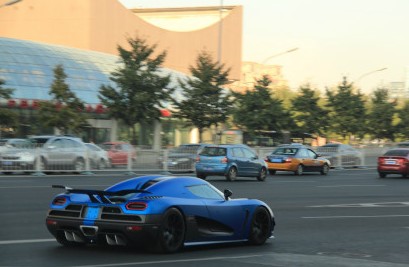 The 3th Ring is a fine place to go fast, when you arrive at the right time. From 04:00 until 06:00 in the morning the road is usually very empty. There are many speed cams bot mostly in the eastern and northern sections. The southern section is particularly camera-free. Pics are taken on the eastern section near the World Trade Center.