Here we have a gigantic 8th generation Buick Roadmaster sedan, seen on a sunny street in Beijing. The 8th-gen Roadmaster was made from 1991 until 1996, it was never officially exported to China but this particular blue example has diplomatic license plates which means it was imported by an embassy for important government business, like hanging around on receptions drinking beer.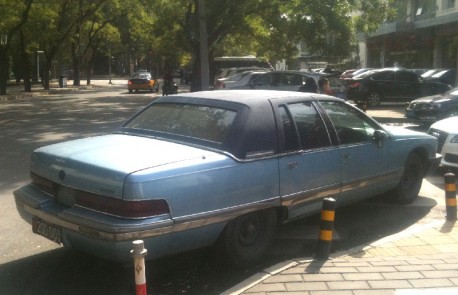 The vehicle is sadly in a rather poor condition. The ornament on the hood is gone, the paint is faded, the wheel covers are gone and the chrome loox dirty. Rust however didn't do much harm thanks to Beijing's desert-dry climate. The very cool vinyl panels on the roof  were dusty but otherwise fine. A good cleaning will help this fine car a lot! Parts will be hard to get in China but are readily available in the US, this car so can be saved, if there is the will.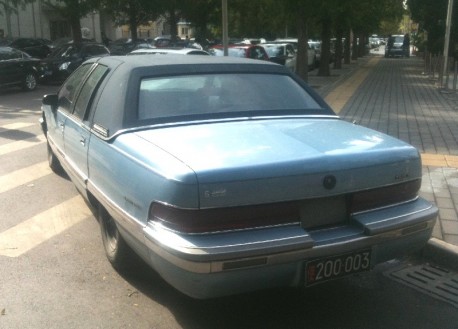 Power came from a mighty 5.7 liter V8 that in the best American tradition only pooped out a paltry 260hp in its strongest variant. Transmission was a 4-speed automatic, sending power to the rear wheels. The Buick Roadmaster stood on the same GM-B platform that also underpinned the Buick Roadmaster station wagon, the Buick Estate, the Chevrolet Caprice, the Chevrolet Impala SS and the Oldsmobile Custom Cruiser. Oh yez, those were the golden days of platform sharing!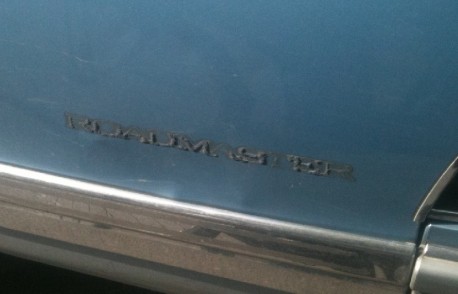 Great name for a car! The very first Buick Roadmaster debuted all the way back in 1936, this 8th generation was the last Roadmaster, so far.