Here we have a very green and very beautiful R129 Mercedes-Benz SL500, seen parked on a small parking lot near my home in Beijing. This fine Benz stood there, untouched, for a few months and then suddenly disappeared. It has since been replaced by a red BMW 850i that is never used either.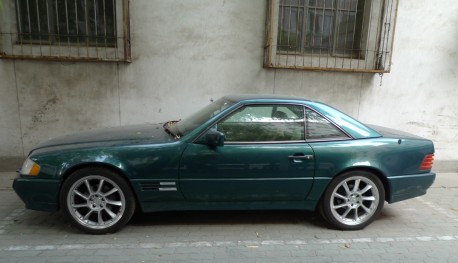 Huge low profile tires and propeller-like nine-spoke alloys in silver. The R129 was made from 1989 until 2001, some 213.000 cars were built. The SL500 was powered by a 5.0 liter V8 engine that pooped out 322hp and 469nm. This is a pre-facelift model, made from 1989 until 1995, easily recognizable by the front fender vents, before 1995 they had 3 squared slots, after 1995 two rounded slots.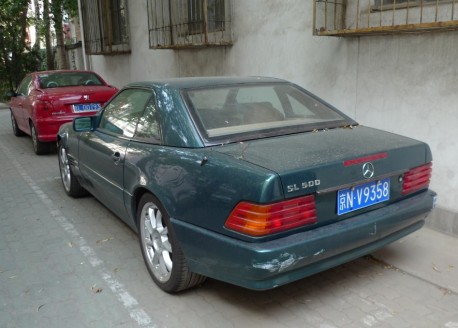 Note Peugeot 206CC in front of the mighty SL. Benz is gone, Peug is still there. It should have been the other way! A few other Mercedes-Benz SLes from China: red-pink, pink SL63 AMG and a perfect white R129 SL500.