Here we have a very well conserved third generation Mitsubishi Eclipse Coupe, seen a few month ago on a hot summer day in the capital Beijing. The 3G Mitsubishi Eclipse was made from 2000 until 2005 and was never officially sold in China, but a very few arrived via the gray circuit. Earlier on we met a clean 2G Mitsubishi Eclipse Convertible.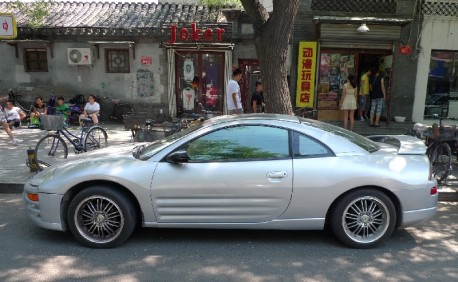 The Eclipse was parked in a street near the Bell & Drum Towers, a very popular tourist spot. The vehicle had plates from Liaoning Province indicating it normally lives up north-east. Large tires and racy alloys are after market but look good on this fine Japanese sportmachine.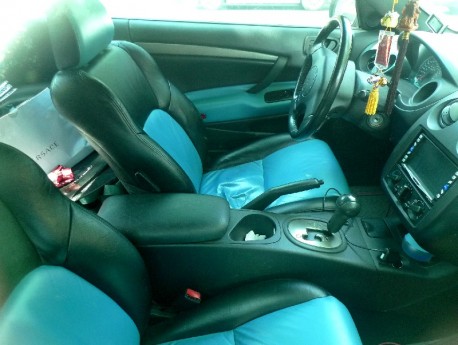 Interior original and in reasonable condition. Leather a bit worn, but blue still very cool. This basic Eclipse RS was powered by a 2.4 liter four-cylinder, good for 150hp, mated to a five-speed manual or a four-speed automatic, as in this particular car. Legal, semi-legal and illegal clones of the 2.4 liter engine are still widely in production in China, used mostly to power all sorts of cheap SUV's and pickup trucks. The lazy 2.4 was never a perfect fit for the Eclipse, fortunately it was also available with a 210hp 3.0 V6 in GTS trim.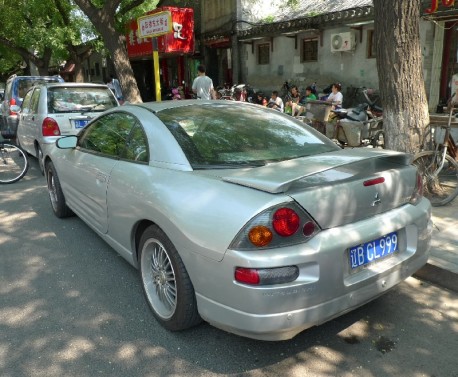 Large wing on the back is original. The Mitsubishi Eclipse platform also underpinned the Dodge Stratus Coupe and the Chrysler Sebring Coupe, both from the time Mitsubishi and Chrysler worked closely together. The American cars are rightly forgotten now, but the Eclipse will live on forever!