Here we have a very funky Guangzhou Auto Trumpchi with Lambo-doors, seen on a rainy day on the always sunny Hainan Island. Lambo-doors are always a bit strange on rather boring four-door family saloons but things work our wonder well for this Trumpchi.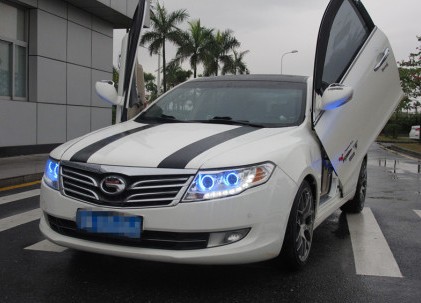 The vehicle is made even more fast with black racing stripes, blue head lamps, led-lights in the head lamps, blue mirror lamps, 19inch low profile tires and racy six-spoke alloys. The base Trumpchi is powered by a 170hp 2.0 four-cylinder, the engine is this Lambo-Trumpchi is tuned up slightly to some 220hp.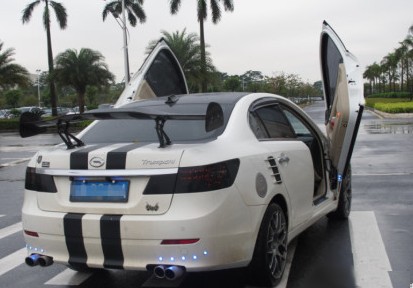 A bit more party at the back with led-lights, racing stripes, fake exhaust ends, fake air vents behind the rear door, black lamp covers and a very big wing! Note blue lights under Lambo-doors. All seen together, we think this Trumpchi has been improved a lot over the standard car. Approved!