Here we have a Brilliant-Bling Lamborghini Gallardo Superleggera, seen in an underground parking lot in the great city of Shenzhen by reader & serial spotter Josh P., thanks for the pics! The super Lambo is neatly wrapped in shiny green, and made even more speedy by special matte gray five-spoke alloys.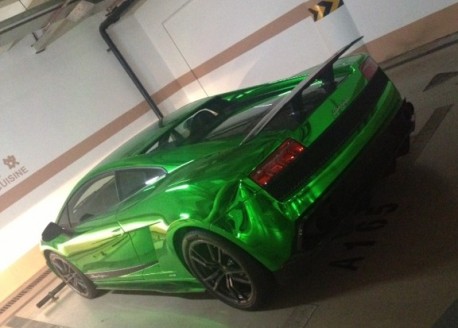 Bling is meant to make a beautiful car even better. In this case Bling made the Gallardo near perfect! Wadda car. The Lamborghini brand is all about showing off, and this lime green combination makes all other cars completely invisible.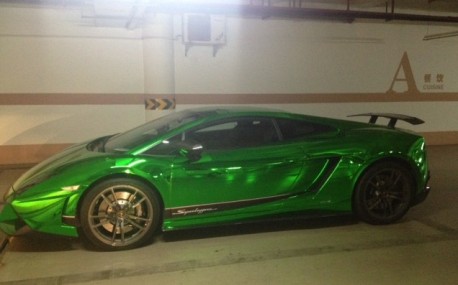 The Lamborghini LP 570-4 Superleggera debuted in 2010. The 5.2 liter V10 poops out 570 horses, good for a 325 km/h top speed. Weight went down to only 1340 kilo, making the Superleggera the lightest road-going Gallardo ever. Some other notable Gallardo supercars we met in China: chrome, Reventon, crash, GZ8 Edizione Limitata, shiny-blue, matte-black & orange, water melon, red wheels,  HK20, pink, matte-black, gold, pink,  another pink, lime-green, in gold, one purple, another purple, the official Gold Edition, and a Spyder Performante.