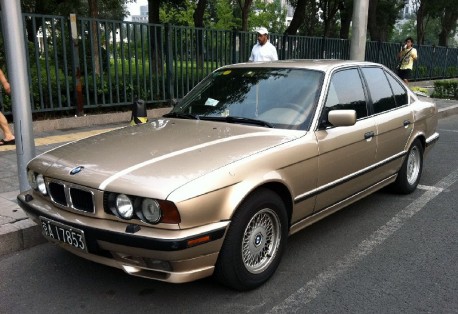 Here we have an absolutely perfect E34 BMW 540i painted in metallic-gold, seen by reader Ali Khalili in Beijing, thank you for the pictures! The E34 5-series was made from 1988 until 1996 and was never officially exported to China. This particular vehicle however has black license plates, meaning it was, and probably still is, owned by a foreign-funded company that could import their own cars in the 1980's and 1990's.
This golden beauty was made even more pretty by a sport package, consisting of an extra low front bumper, side skirts and a boot spoiler. Chromed wheels and exhaust pipes were standard 54oi. Power came from a 4.0 V8 that pooped out 282hp and 400nm, good for a 230km/h top speed. It was the first time BMW offered a V8 in the 5-series.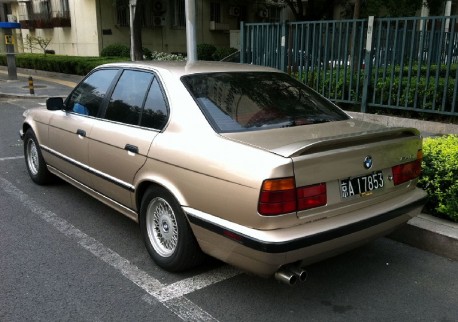 The vehicle loox simply stunning. Maintenance must be hard and expensive work since BMW dealers in China don't have parts or experience with the E34. Still, the owner of this factory-fresh car somehow managed to pull it off! We met a few other E34 in China: 520i , lowrider and one other 540i with a telephone.