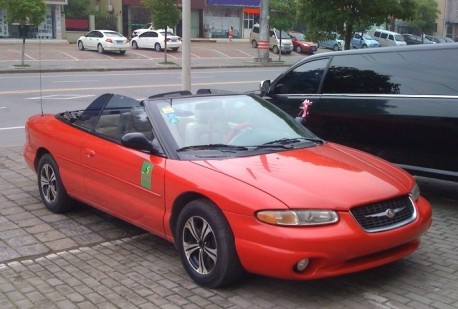 Here we have a very neat and very red Chrysler Sebring Convertible, seen by reader Jeff C. in a small town near the great city of Nanjing in Jiangsu Province, thank you for the pictures! The Sebring can be hired as a wedding car, parked behind it stands a giant Great Wall Limousine.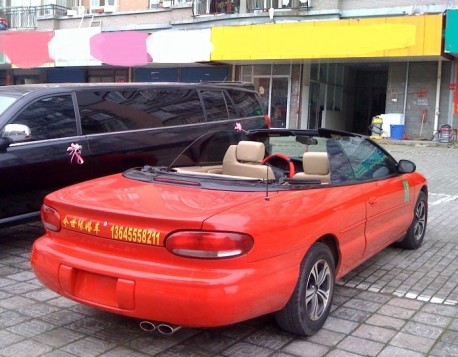 The first generation Chrysler Sebring Convertible was made from 1996 until 2000. Interestingly it wasn't based on the Chrysler Sebring sedan but on the older Chrysler Cirrus sedan. The first gen Sebring-series was never exported to China but some Coupes and Convertibles were sold via the gray market, most ended up as wedding or party cars. The first-gen Sebring Convertible was available with a Chrysler 2.0 i4 or with a Mitsubishi 2.5 V6.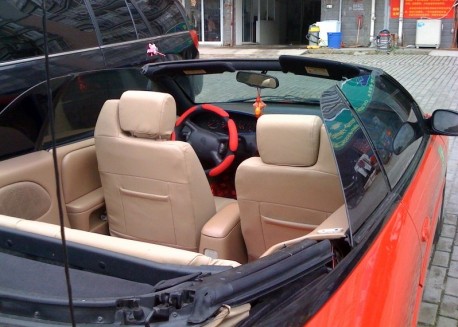 The vehicle seems in a fine shape. Body work loox clean and interior still fresh. But the hood-mechanism might have a problem. Jeff passes by the place quite often, and when it is rainy…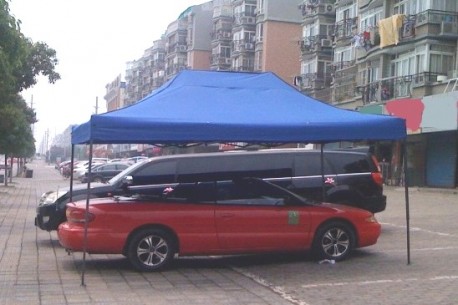 … they build up a tent. A Chrysler Sebring Convertible is a rare car in China, and therefore needs proper protection!