A very clean and very black Alfa Romeo 166, seen in the Sanlitun embassy district in Beijing by reader Ali Khalili, thank you for the pictures! The Alfa Romeo 166 was produced from 1998 until 2007 but it was never officially exported to China, so how this stylish Italian sedan ended up in the capital is a bit of a mystery. The 166 however has a strong Chinese connection…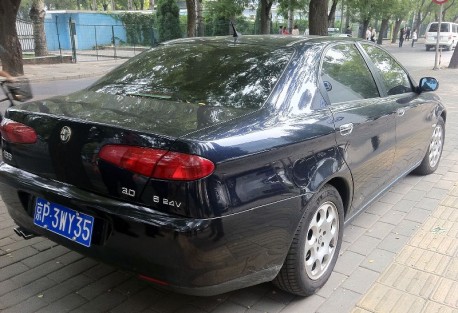 When production ended in 2007 Fiat sold the platform, and the 2.0 Twin Spark engine, to the Guangzhou Automobile Corporation, aka Guangzhou Auto. The Chinese got to work and used the platform for the 2010 Trumchi (facelifted!) and the 2012 Trumpchi GS5 SUV. Both vehicles are still available with the 2.0 Twin Spark.
In the meantime Guangzhou Auto and Fiat had become friends, and in 2009 they agreed to form a joint venture which started selling the Fiat Viaggio late last year, and will make many more Fiat-branded cars for the Chinese market. But it all started with the Alfa Romeo 166!
The 166 was powered by a 2.0 Twinspark, a 2.0 V6, a 2.5 V6, 3.0 V6 and 3.2 V6. The small six-cylinders were especially for Italy that taxes heavy on everything bigger than 2.5. The Beijing-Alfa is powered by the 3.0 V6 that was good for 226hp and 275nm.