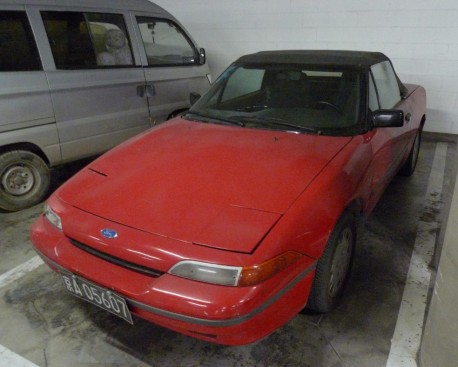 This must be the rarest car we have seen in China so far. A very red Mercury Capri Convertible with a Ford badge on the bonnet. I found it dusty & dirty in the underground parking of Ikea in Beijing.  The Mercury Capri was made from 1989 until 1994 in… Australia.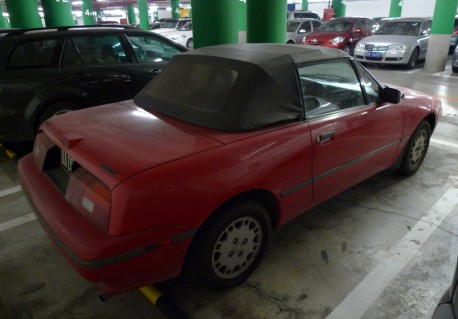 The Capri was completely developed by Ford Australia and big names where asked for help. The exterior was designed by Ghia and the interior by ItalDesign. It was sold as 'Ford Capri' in Australia and as 'Mercury Capri' in the US. Things are a bit confusing on this particular vehicle because it has a Ford-badge on the bonnet and 'Mercury' and 'Capri' badges on the back. I think the Ford-badge is added later, check this American Mercury Capri, it's the same up until the wheel covers.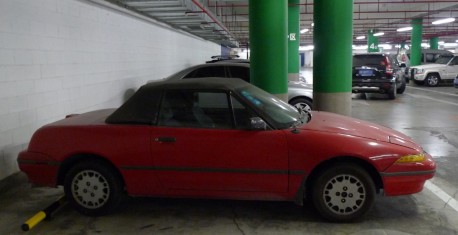 The Mercury Capri was based around Mazda 323 mechanics and therefore front-wheel drive. Power came from a 100hp 1.6 or a 132hp 1.6 turbo. The Ikea-car seems to be the base 1.6 model, the 1.6 turbo had some extra plastic and different wheel covers.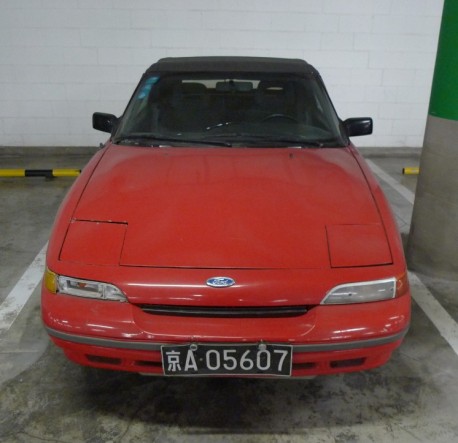 Black license plate indicating the vehicle was imported by a foreign-funded company, which could import their own cars in the 1980's and 1990's. This red convertible must have been a sensation in Beijing when it arrived, in those these the most exciting car around was a Beijing-Jeep Cherokee.
The Mercury brand was never exported to the Chinese market, but the Mercury Villager was actually made in China for a short while, and earlier on we met a first generation Mercury Grand Marquis.