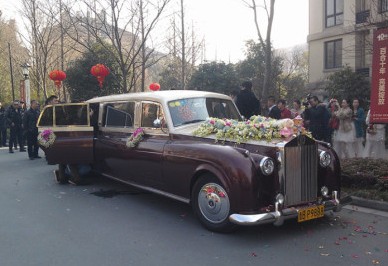 A happy day in the great city of Wenzhou in Zhejiang Province. A happy couple got married and hired a huge Rolls-Royce for the wedding party. Two-tone paint, shiny wheels, lots of flowers; a fine car for a honeymoon. But this ain't no real Roller…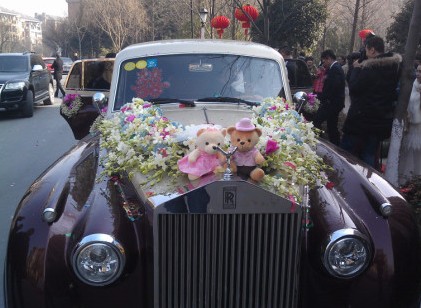 This great car with sweet little bears might look like a 1961 Rolls Royce Phantom, complete with badges and all, but it is in fact the kinda famous 'classic style wedding car' made by Qingdao Soar Automobile from the great city of Qingdao in Shandong Province.
The body is made in-house and bolted on a stretched Great Wall SUV platform. Power comes from a China-made Mitsubishi 2.4 four-cylinder with 135hp and 200nm.Price for all this pretty: 250.000 yuan or 40.000 US dollar. This Wenzhou-car is the fourth Soar we see in the wild, earlier on we met one red & one white, and a even cooler SWB variant.