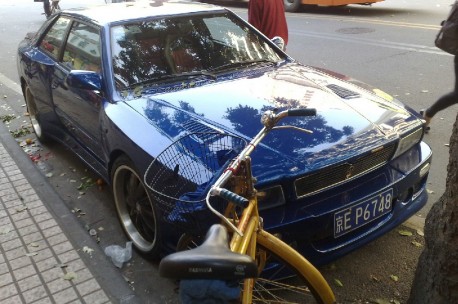 Here we have a strange bird in Beijing. This is a Maserati Ghibli II, made in Italy from 1992 until 1997. The vehicle is made more pretty by a impressive body kit which includes a diffuser at the back. Now the real strange stuff: a badge on the back says '60th Anniversary', and it also has small golden badges up front and on the back. Maserati never sold such an edition of the Ghibli, the brand celebrated its 6oth birthday in 1974…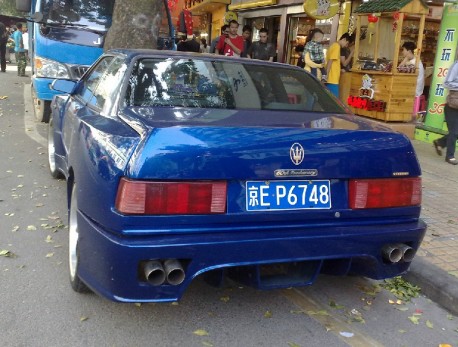 Check that back! Four exhaust pipes. Giant diffuser.  Loads of extra plastic. Badge bigger: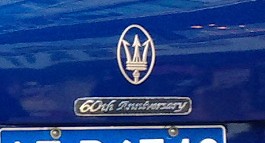 I got the pics from a friend of a friend and can't see what is on the small golden badges. This 60th Anniversary badge sits under the Maserati logo. Since this Ghibli is heavily modified it might be some tuner or race outfit celebrating its birthday.
Maserati made two special editions of the Ghilbli; the 1995 Ghibli II Cup with 57 (or 60) cars, and the 1996-1997 Ghibli Primatists with 60 cars. None comes even close to the extremism of this car in Beijing. If you know more, please let me know in the comments.