Desktop speakers for your MP3 player usually look very boring; like a speaker, in black or gray. In China, desktop speakers look like expensive cars, as seen on a toy market in the great city of Guangzhou in Guangdong Province.
On first pic a blue Rolls-Royce Ghost, flanked by a yacht which is a speaker too. The Roller can be connected to any MP3 device with a USB-port, or you can plug-in a USD-disk directly. The actual speaker sits in the roof, with a sub-woofer for base in the bottom. Sound was surprisingly good. Whole thing is about 20 centimeters long. Price for all this pretty: 90 yuan or 15 USD.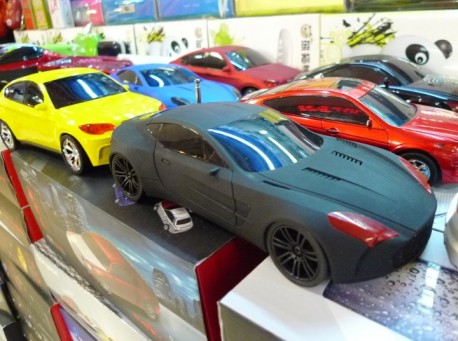 A matte black Aston Martin One-77, also available in baby blue. The Aston had a radio function too. Behind the Aston a yellow BMW X6M with red head lights.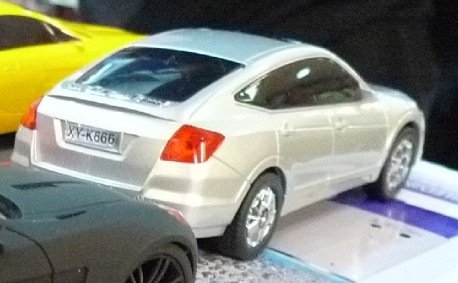 A Honda CrossTour. Yep, a Honda CrossTour. Weird as a car, weird as a car-shaped speaker.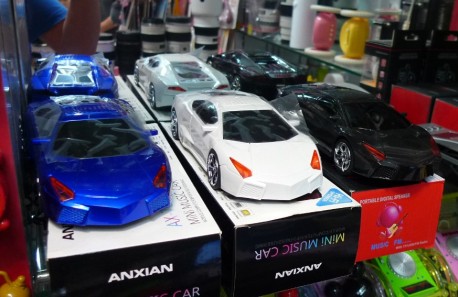 The Lamborghini Reventon, with red head lights.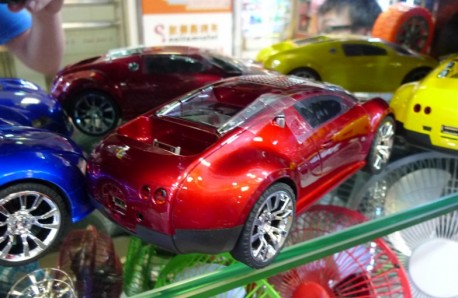 This monster was the best. The Bugatti Veyron, with an actual iPod dock at the back. In blue, red or yellow. At least 30 centimeters long and a fantastic sound. The Veyron indeed is the best car in the world, and it is the best car-shaped speaker in the world. Bit expensive at 200 yuan, but then again, it's a 'Buug'  man.