Here we have a red tricycle, seen in the suburbs of the great city of Shenzhen in Guangzhou Province, thinking it is a BMW. But it isn't. This indeed is a Feilu Junma FLA1 tricycle. Feilu Junma means 'Thunder Road Steed', and that is a very good name for any car but especially for a tricycle.
However, he who slapped the fake BMW badge on the bonnet is not a complete fraud. The character 'ma' of Junma is the same as the character 'ma' of Baoma, meaning Treasure Horse, which is the Chinese name of BMW.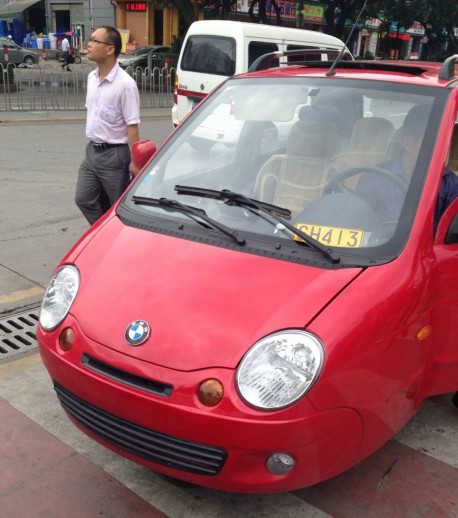 The Feilu Junma FLA1 tricycle is made by a company called Fulu Motor from the great city of Dezhou in Shandong Province Province. The FLA1 (factory designation: FL175ZK-A) is powered by a 23hp 3-cylinder gasoline engine mated to a 4-speed manual. Size: 3410/1500/1525. Weight: 598kg. Top speed: 60km/h. The FLA1 costs about 8000 yuan in retail, or  1305 USD. The cheapest BMW in China is the 116i which goes for 262.000 yuan or 42.700 USD.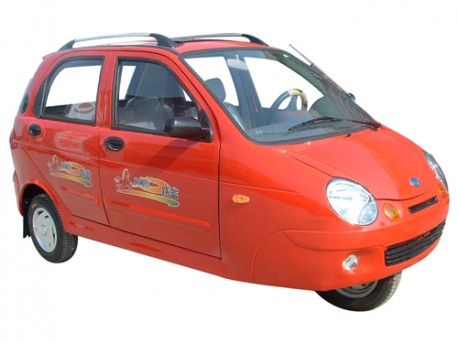 The Feilu Junma FLA1 tricycle with its correct badge. Overall design of the good vehicle is inspired by the Chery QQ3, which was inspired, one way or another, by the Daewoo Matiz. Interestingly, only last week met a Chery QQ thinking it was a BMW.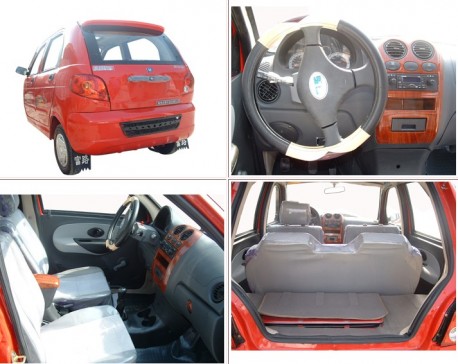 Fake wood on dash a great idea. The FLA1 seats four. The engine sits in the back, just behind the rear seats. The FLA1 is rear-wheel drive. China has literally hundreds of factories making similar vehicles for a similar price. The vehicles are forbidden in most big cities, but in the rest of the country they roam free, hopefully forever.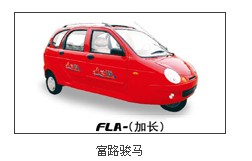 Once upon a time Fulu Motor also made a stretched variant of the FLA1. It was called the FLA-, with a '-' at the end, and that is a very good name for any stretched car but especially for a stretched tricycle. It was extended behind the C-pillar, with an extra window. Sadly, the FLA- seems no longer in production today.