The 2014 Cadillac XTS-V6 super saloon has been seen testing in China. The XTS-V6 will be powered by a twin-turbocharged 3.6-liter V6, good for 410hp and and 500nm, sending power to all four wheels via a six-speed automatic gearbox. The base Cadillac XTS is made in China by the Shanghai-GM joint venture and the speedy XTS-V6 will be made in China as well.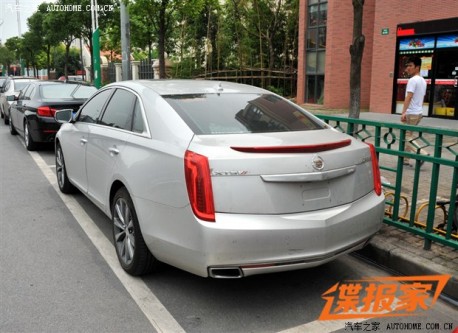 The Cadillac XTS is currently available with a 269hp 2.0 turbo and the 309hp 3.6 V6. Price ranges from 349.900 yuan to 569.900 yuan.
Price for the XTS-V6 will start around 700.000 yuan or 114.000 USD. The XTS-V6 will compete with other locally made power houses such as the Audi A6L 50 TFSI and the BMW 535Li.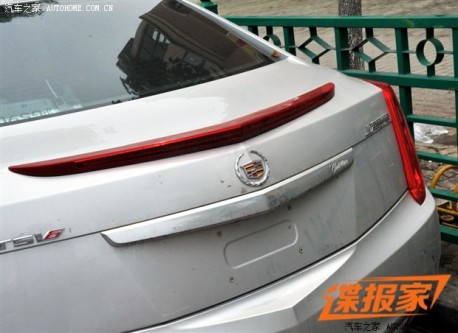 Shanghai-GM badge on the right.
The XTS-V6 will play an important part in GM's push for the Cadillac brand in China. Dealers have been asking for ages for powerful locally made Cadillacs to compete against the Germans. GM currently imports the fast Caddy's which makes them too expensive.
The fat engine will help sales but it won't solve the wheelbase problem. The Audi A6L, BMW 5Li and Mercedes E Class L all come with an extended wheelbase, especially designed for the Chinese car market. The China-made XTS has the same, rather short, wheelbase as the American-made XTS.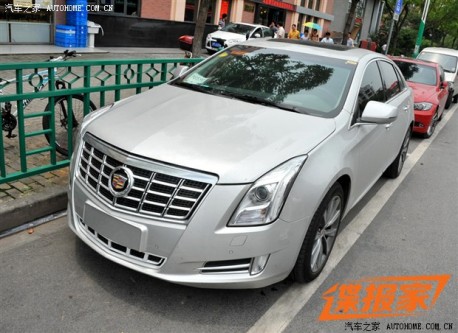 Exterior seems completely standard, final production version will likely get some extra plastic. Debut in China is expected for the April 2014 Beijing Auto Show.