An extremely pretty Citroen Fukang, seen on a remote location just inside the Fifth Ring Road in east Beijing. The good vehicle was painted in Pink, no wrapping here, and white, and further sexed up with a giant body kit that includes two huge wings at the back. Best of all however are the rear windows that are painted in green. Best of those is the rear windshield which has a pink heart painted on the green paint.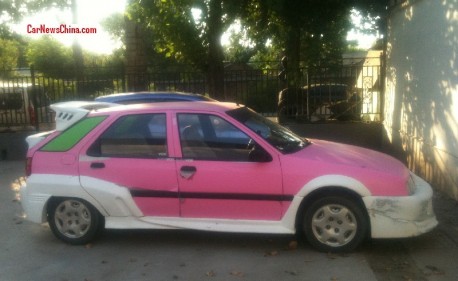 The Citroen Fukang is based on the first generation Citroen ZX. Production started in 1994 and it is still in production today, now called the Citroen c-Elysee, made in China by the Dongfeng-PSA joint venture. A brand new C-Elysee is however on the way, albeit a bit delayed. The plastic wheel covers of this particular car are bog standard, and enable us to date the vehicle as an early 1990's example. Power came from a 1.6 which delivered, depending on exact configuration, between 90 and 120 horses, which should be enough to propel this Pink monster to some 100 kilometers per hour.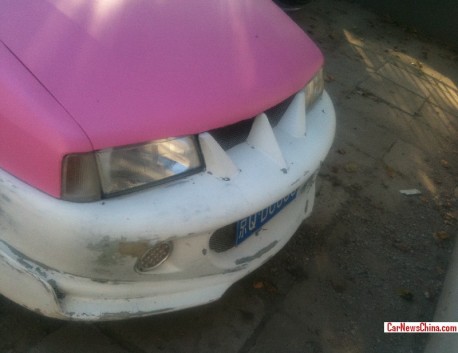 Very sleek front spoiler, ready for battle in any universe. Interestingly, when I shot these shots a man came running up to me, telling me to stop taking photos, which likely means this is a very secret space project indeed.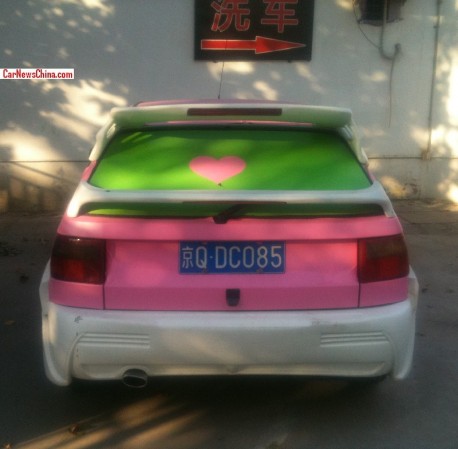 The Heart, because Love.