A very sad and very abandoned Audi A5 Coupe, seen on a parking lot slash field in the great city of Chengdu in Sichuan Province. The sliver gray Coupe must have been left all alone quite a while ago. Nature is taking control of the poor vehicle, with grass and bushes attacking the front and tires of the Audi. Chengdu stands on fertile ground in a near-perfect always-spring climate. Without interference nature will completely grab the Audi within months.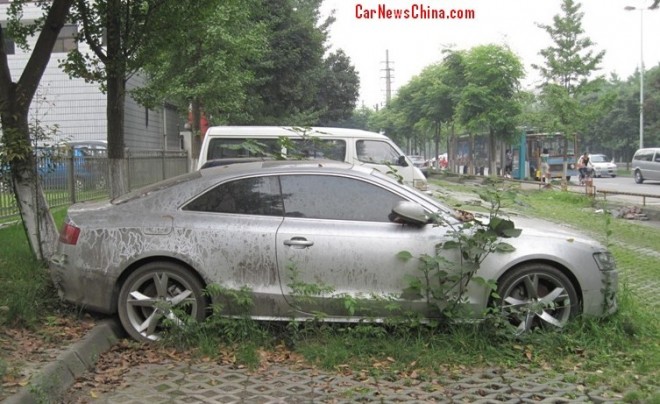 Fast layers of dust 'n dirt covering the body work. The Audi A5 is imported into China and thus an expensive car to abandon, starting at 525.000 yuan or 85.000 USD. Nature seems to know it has a Big Prize in its tentacles…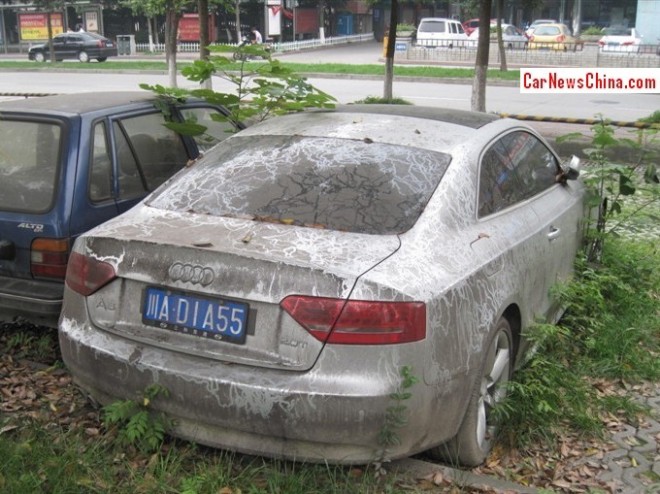 Check license plate. The owner must have loved his fine Audi, when it was still clean and mean! Too bad. But fortunately we still have our Famous China-Audi A5 Coupe Collection™, with most cars driving: giant mufflers, matte orange, lowrider, golden grille, matte blue, pink, : matte black and black & white.