A manically bling  Ford Mustang, seen on the streets of the great city of Chongqing by reader Colin, thank you for the pictures! The fine Ford has been wrapped in an eye killing shiny silver wrap, and is further sexed up by 5-double spoke alloys in Pink with a white rim, and heavy fog lights on the bumper.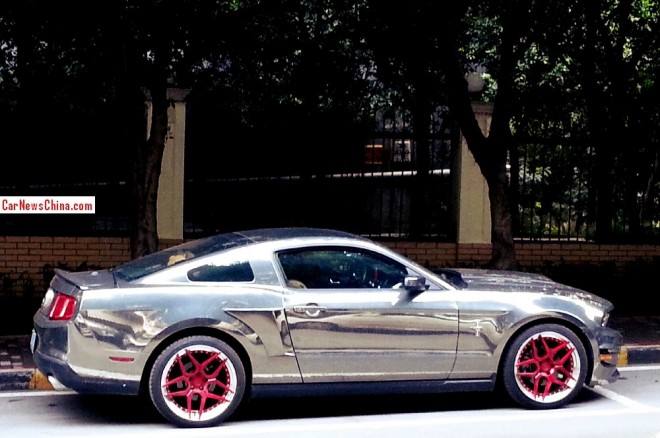 Sleek profile of the warhorse annex warplane comes out very well in silver, looking ready to attack even the most polluted sky, or the bar street. Ford does not officially export the Mustang to China, thereby missing millions in profits that now go straight to gray market dealers. Most new Mustangs in in China come from Ford dealers on the U.S. West Coast, shipped by boat to eager Chinese buyers.
Happily we are seeing some older Mustangs as well, time now for our Famous China-Ford Mustang Collection™: 4th gen yellow convertible, GT500, yellow convertible, 4th-gen GT, 5th-gen grey, strange S320, rare 2nd-gen coupe, Shelby GT500 crash, and the Galue Convertible.