A mellow yellow fourth generation Ford Mustang, seen on a parking lot in central Beijing on a cloudy day, but the Mustang made all darkness go away. The fine vehicle was in perfect shape, ready to win any Mustang beauty contest. The paint as fresh as the spring, no missing parts, original period alloys and even the black hood seemed to be in order.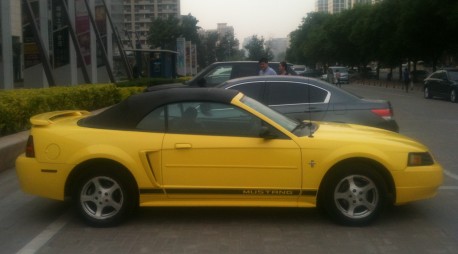 Mustang sticker is period and extremely cool, but not as cool as the huge plastic wing on the back. The fourth generation Ford Mustang was made from 1993 until 2004. This particular yellow car is a 'New Edge' facelifted example that was made from 1999 until 2004. The base model was powered by a 3.8 liter V6 engine, good for 190hp and 298nm. The biggest and baddest engine was the 390hp 4.6 liter V8 in the speedy Mustang Cobra.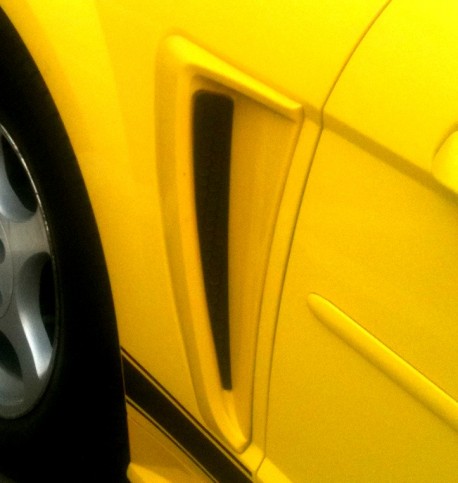 Fake air intakes are cool too.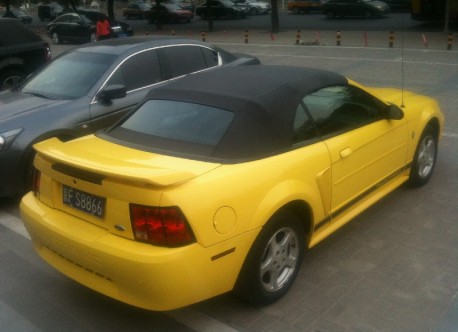 Ford never officially exported any Mustang to China, and still doesn't sell the Mustang in China today, leading to a wild-west gray market. Happily, we have seen some interesting examples popping up here and there in the country: GT500, yellow convertible, 4th-gen GT, 5th-gen grey, strange S320, rare 2nd-gen coupe, Shelby GT500 crash, and the Galue Convertible.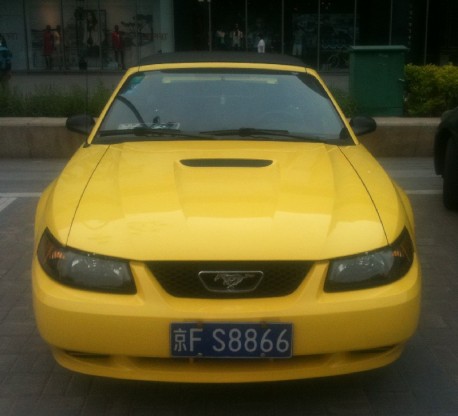 Yes, that air intake is fake as well. Oh those wild 1990's…