Chinese president Xi Jinping has a new parade car, seen here during an inspection of the troops at the National University of Defense Technology in the great city of Changsha in Hunan Province. Parade cars are designed for open-top viewing purposes and are still very popular with central and local governments in China.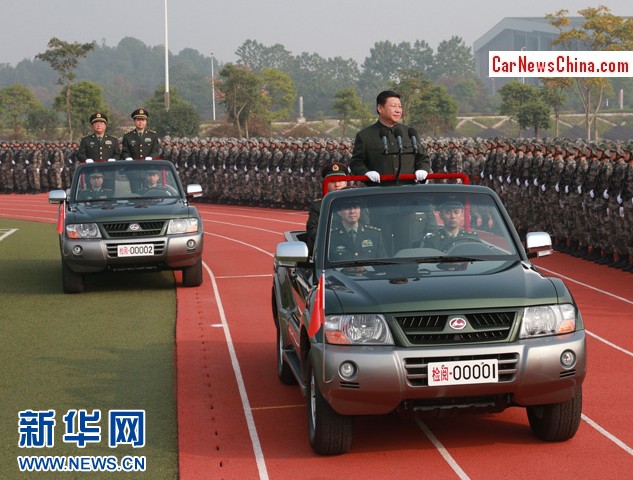 Xi Jinping in the 00001, accompanied by three high-ranking officers and a driver. Xi holds a specially designed handle bar, here decorated in red. The president can communicate with the troops via three microphones that are connected to a ground-based sound system. The conversation goes like this: Xi: "Soldiers of the People's Liberation Army!" "Yes Commander!" "Are you ready for battle?" "Yes Commander!", and on it goes.
The parade car is based on a Mitsubishi Pajero and converted by Changfeng Automobile, a subsidiary of Guangzhou Automobile. The Mitsubishi Pajero is made in China by the Guangzhou (Automobile)-Mitsubishi joint venture.
The roof has been chopped off, the suspension strengthened, the A-pillar strengthened, the body painted in army green,a flag pole was added to carry the Chinese flag, and the Mitsubishi logo was replaced with the Changfeng logo. Only two of these parade cars were built, and they will be used during similar inspections throughout the country.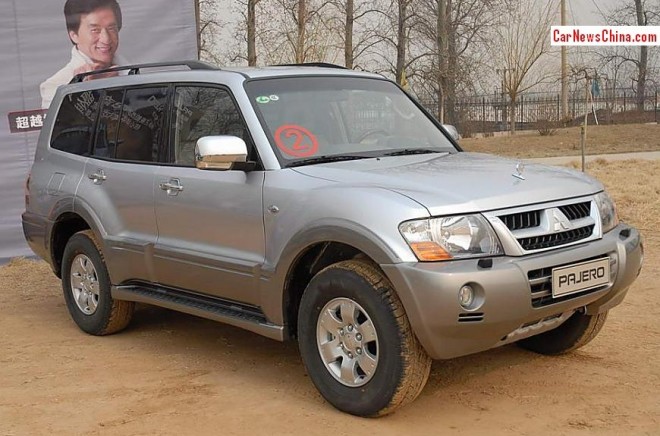 The current Guangzhou-Mitsubishi Pajero, here with Jacky Chan. Price starts at 298.000 yuan and ends at 398.600 yuan. Engines: 2.4 and 3.0 V6, both petrol.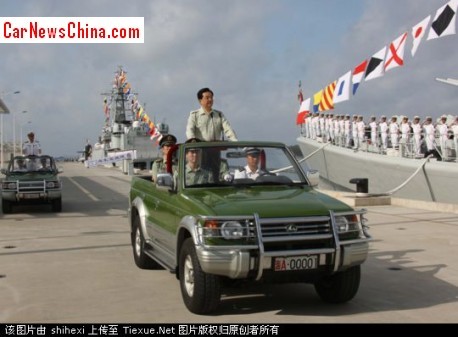 This is the former parade car, seen here with former president Hu Jintao inspecting a navy unit in Sanya. The former parade car was based completely made by Changfeng, as it was based on the Changfeng Liebao which was a license-build variant of the second generation Mitsubishi Pajero. The agreement fell apart when Guangzhou Auto bought Changfeng Auto in 2011.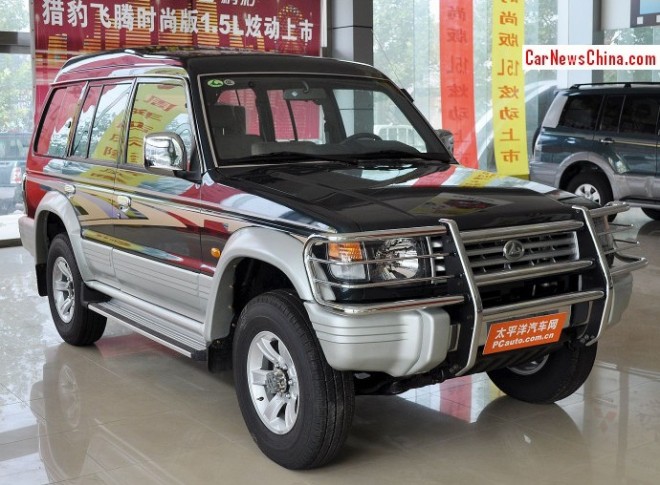 The 2009 Changfeng Liebao 6481, powered by an ancient Mitsubishi 129hp 2.2 liter petrol engine. Production came to a halt in early 2012 but Changfeng continues to build local variants, even including a brand variant; the Changfeng Liebao Heijin Q6.