A very tasty Ferrari F12berlinetta super car, seen at the Sheraton Hotel in the great city of Chongqing in central China. The fine Ferrari was wrapped in an incredible matte gold wrap, and further sexed up by an all-black grille, shiny black 5-spoke alloys, and fiery red braked pads. The color of the car matches perfectly with the  winged-woman statue in the background.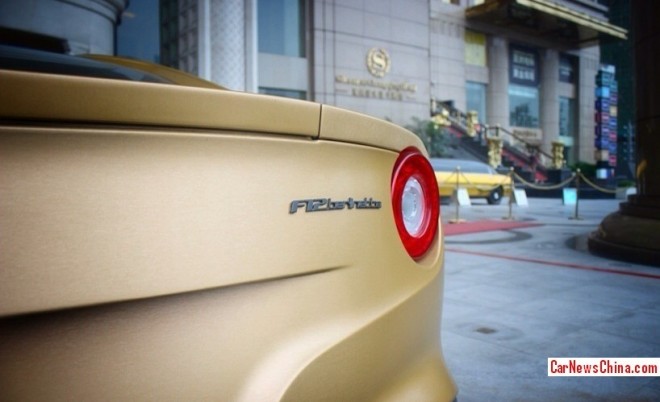 See right. There stands a giant golden Lincoln Town Car limousine, which we know very well.
The maddening fast Ferrari F12berlinetta is a very popular super car in China. Price starts at a crazy 5.308 million yuan or 835.000 USD. Power comes from a screaming 6.3 liter V12 with 730hp and 690nm, good for a asphalt burning 340km/h top speed. Time now for our Famous China-Ferrari F12berlinetta Collection™: garage, license (6KF12), at the wedding, license (00F12), with 458,  red in Zhongshan,  with friends, black in Shanghai, on the move in Wenzhou, blue in Xiamen, dusty in Wuhan, red in Guangzhou (crashed), black in Chengdu, and a truck full in Shanghai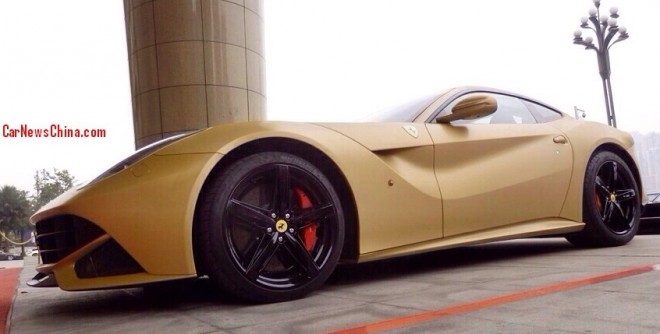 Gold is beautiful. Ferrari is beautiful. Together is magic.