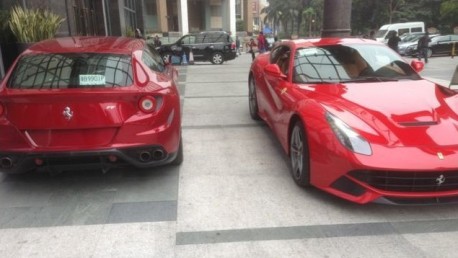 A very special double supercar spot, a Ferrari F12berlinetta and a Ferrari FF meet in front of a Ferrari dealer in the great city of Guangzhou in Guangdong Province. The red F12 is second one we see at a dealer after a black example in Chengdu, and earlier on we saw three on a truck.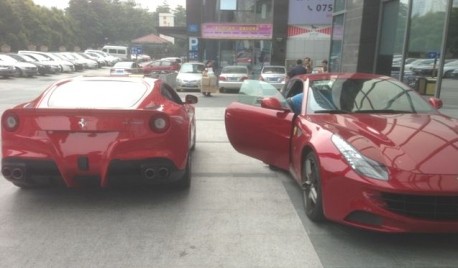 Wadda power! The Ferrari F12berlinetta comes with a 6.3 liter V12 that poops out 730hp and 690nm, price in China is 5.308 million yuan or 835.000 USD. Not cheap but speed: 340km/h and 0-100 in 3.1 seconds.The Ferrari FF has basically the same 6.3 liter V12, here with 651hp and 683nm, good for a 335km/h top speed and 0-100 in 3.7 seconds. Price in China is 4.9 million yuan or 786.000 USD.
Well, take your pick! The F12 is just a bit faster but the FF can take a few babes more.