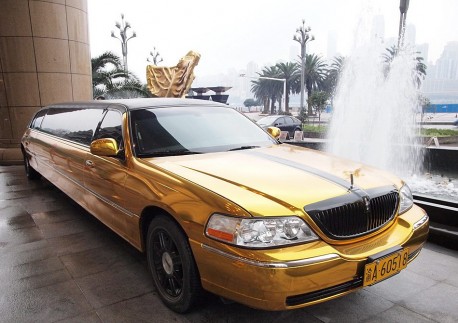 A very foggy day in Beijing, winter came, with shitloads of pollution. Time so for Bling! And today we have the new Master of all Blinged cars in China… This is a brilliant and gigantic third generation Lincoln Town Car stretched limousine in gold, seen in front of a hotel in the great city of Chongqing by reader Colin, thank you for the pictures!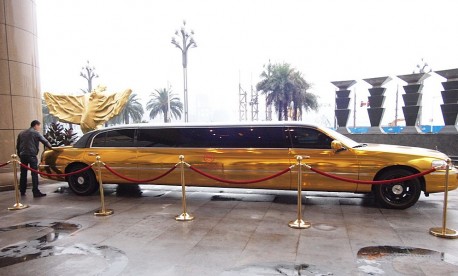 The limousine is stretched by at least five meters in the middle. The gold wrap is of high quality and sits neatly over the bumpers and mirrors. Details such as the grille and alloys are made black for better contrast. The racing stripe over the bonnet is a great touch too. The new King of Bling seems perfectly in place at this particular hotel, with a golden statue and golden parking-poles.
The Lincoln Town Car was never ever exported to China but is it a hugely popular limousine. Our famous collection, going straight through all generations: silver limo, very stretched, super stretched,  stretched to the max, marriage, first-gen limo black, Hongqi CA7460 and orange.