The Porsche 918 Spyder has arrived at the Guangzhou Auto Show in China for its Asia Premiere on Friday. The vehicle was spotted totally uncovered during a speech rehearsal in the exhibition hall. The Porsche 918 Spyder is already very famous in China, not so for its speed as for its price. The 918 Spyder will cost 13.388 million yuan or 2.19 million U.S. dollar. The 918 Spyder Weissach Package will cost 14.635 million yuan or 2.39 million USD.
Porsche China CEO Deesch Papke practicing his speech. He looks very alone on the gigantic stage. Porsche better add some pretty German girls to the party.
Expensive as it is, the 918 Spyder is a seriously fast car, especially with the speedy Weissach Package. Combined output of the hybrid drivetrain is 887hp, good for a 345km/h top speed and a 0-100 in 2.8 seconds. Anyone looking for a hybrid super car that is almost as fast and considerably cheaper should head over to McLaren. The P1 will sell for about 12.6 million yuan or 2.05 million USD. The difference buys a Porsche 911 Carrera 4S Cabriolet.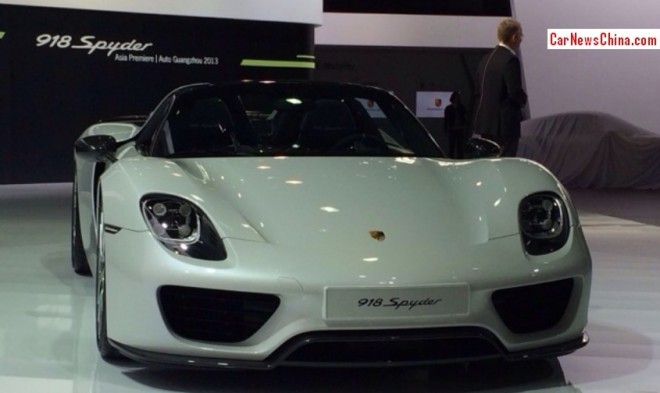 However, Porsche will have no problem selling each and every 911 Spyder it can ship to China. Porsche will only build 918 examples of the hybrid super car, how many will be allocated to China is yet unknown.
---
Recommended Stories: