A very flashy BMW 5Li, Spotted in China in central Beijing. The bimmy Bimmer is wrapped in an eye-bleaching Pink wrap, and much further sexed up by an M-style body kit, racy tires with sporty alloys, a black roof, a black wing on the back, a black BMW grille, tinted windows, and tinted head lights.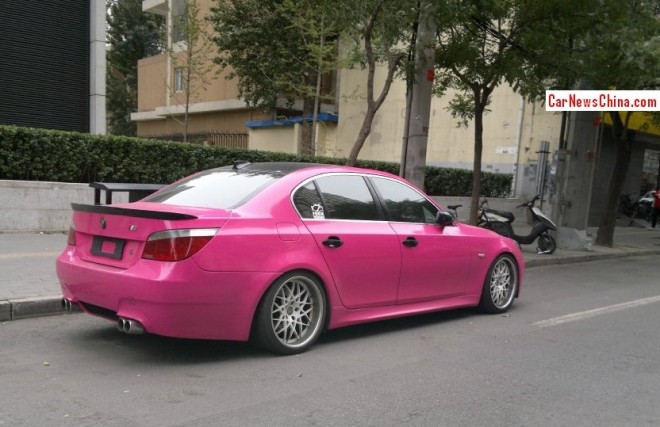 The wrap seems to be of reasonable quality and is neatly extended over the bumpers. The door handles and mirrors are wrapped in black for contrast. Black door handles are cool, contrasting nicely with Pink door. But black mirrors don't contrast no contrast with blacked windows, and should have been wrapped in Pink instead.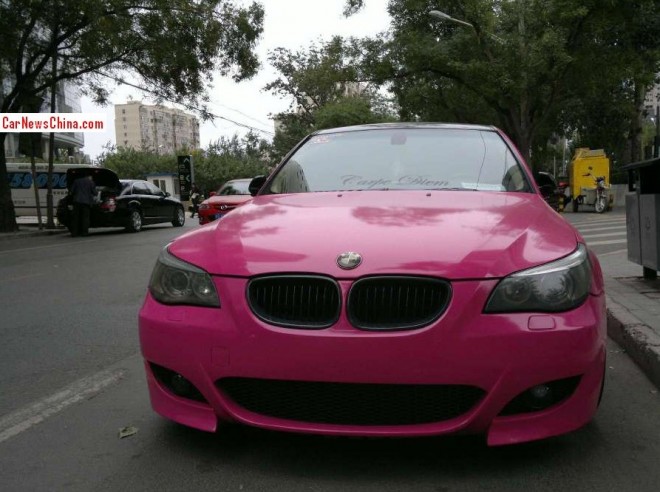 No one can argue with a face like this! Beautiful. The BMW 5Li was a stretched variant of the E60 BMW 5-series, made in China by the Brilliance-BMW joint venture. Time now, for our Famous China-BMW 5-Series Collection™: bit Pink, police car, psycho purple, baby blue E60, confused 535Li, E34 lowrider, E34 540i, E34 540i no.2,and a 523Li police car.