A very happy BMW 5-Series sedan, Spotted in China in the Beijing Tuning Street in the east of the capital. The good Bimmer was wrapped in a shiny blue wrap and further sexed up by a matte black wrapped roof, a shiny black grille, and a black racing stripe over the bonnet with the BMW colors just above the BMW logo.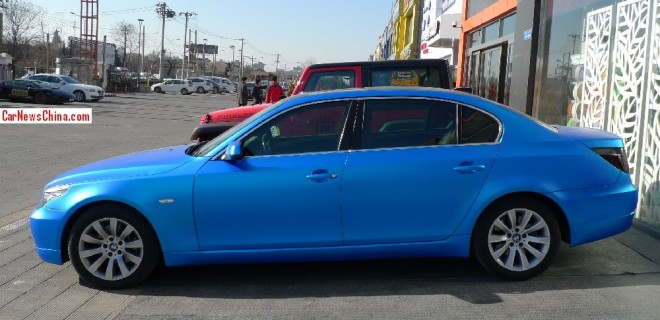 A bit fuzzy duzzy here. The strip around the windows is in chrome, but the pillars are in black. Both are contrasting with shiny blue so I guess it's all right. Rear lights in black as well. Wrap was of high quality and perfectly extended over the bumpers, mirrors and door handles. This great car is a 5Li, the stretched variant of the E60 BMW 5-series, made in China by the Brilliance-BMW joint venture.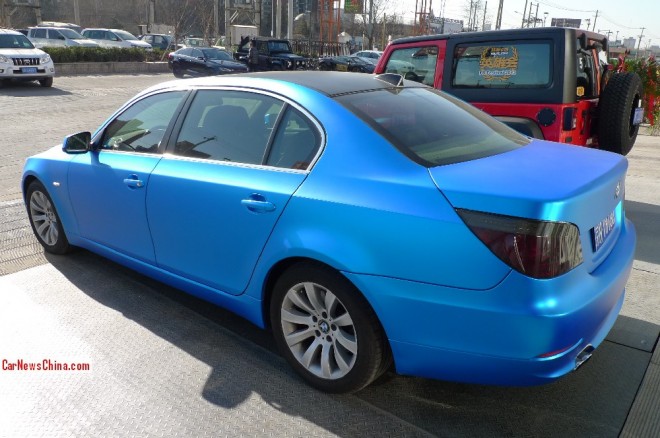 There is a red Jeep parked next to BMW, but wrap is so shiny that it was almost invisible. Time now, for our Famous China-BMW 5-Series Collection™: Pink, bit Pink, police car, psycho purple, baby blue E60, confused 535Li, E34 lowrider, E34 540i, E34 540i no.2,and a 523Li police car.
---